Students Stage The Complete Works of Shakespeare (abridged)
Lainey S. Cronk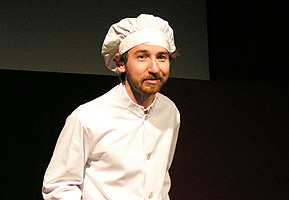 In 10 high-energy performances from February 16 to March 5, three PUC students brought audiences a hilarious presentation of Shakespeare's works—all condensed into a two-hour performance. Senior television & film and history major Zach Dunn, sophomore English major Caleb Rasmussen, and senior math major David Kanter formed The United Shakespeareans and took on The Complete Works of William Shakespeare (abridged), a comedy in two acts written by The Reduced Shakespeare Company.

Directed by PUC alum Jim Smith and produced by Resident Artist Mei Ann Teo, Complete Works featured the three actors taking on a wide assortment of roles as they portrayed, dissected and turned upside-down such characters as Romeo and Juliet, Macbeth, Julius Caesar, Hamlet and a host of other classics from one of the most beloved playwrights of all time.

It's no surprise that all three of these students are more or less obsessed with Shakespeare. The skill—and endurance—with which they flew through scores of costume changes, songs, dances and a frantically paced synopsis of Hamlet was enough to verify their delight in this opportunity to present all of Shakespeare's histories, comedies and tragedies in one performance.
Note: This is an archived article and does not necessarily represent current issues at Pacific Union College.