Schneider Selected as Walter Utt Professor
Lainey S. Cronk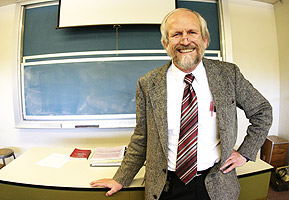 Email
| Font:
- / +
For college teachers who have to fit their research endeavors around a busy teaching schedule, an endowed research professorship is a priceless opportunity. This year one of our own professors, Greg Schneider of the psychology and social work department, has been enveloped in just such an opportunity, provided by the Walter C. Utt Endowment. Even now he is engrossed in researching and writing on the history of Methodism and its influence on politics and family, following the research he presented in his influential 1993 book, The Way of the Cross Leads Home.

The role of Utt professor is allowing Schneider to focus his time and energy on research and writing while teaching one class per quarter. "I realized that this would probably be the last big gift that would allow me to work on something of this scope and wanted to develop a topic that had been latent in my research and earlier book: the rise of evangelical political activity and influence," Schneider explains. "If it weren't for the Utt Chair this project would be dead in the water."

Awarding an endowed history professorship to a psychology and social work professor may seem a little unusual. But Schneider explains that his 1993 book and his current research are natural outcomes of his primary interest: the history of religion. His undergraduate degrees were in history and religion, and he went on to graduate school at the University of Chicago with an interest in the renewal of church life at the congregational level. He began to make connections between the small group explorations contemporary churches were using and the small groups used in the 19th century Wesleyan revival. "My studies brought together my interest in history, religion and psychology," he explains. Now Schneider is a well-known scholar, widely recognized as an expert in Methodist history.

This year, Schneider became the first PUC professor to become the Walter C. Utt Professor. "Some people forget that there are great teachers on this campus," explains Bruce Anderson, a local physician and one of the founding members of the Walter C. Utt Endowment Board. "But here is someone who made a great contribution to Adventist scholarship – and I think selecting Schneider as the Utt Professor is one of the best things the board has done."

Established to honor the memory of influential and beloved history professor Walter C. Utt, The Utt endowment board is committed to fostering Adventist scholarship by bringing great teachers to PUC to research and teach. "Utt was a remarkable teacher who had a huge impact on students," Anderson muses. "The development of the Endowment was almost spontaneous because of the love former students have for him." With notable scholars such as Schneider being selected as Utt Professors, the endowment board has high hopes for continuing the Walter Utt tradition of excellence. "We've been very successful in attracting outstanding Adventist scholars for this honor and hope to continue that," Anderson concludes.

Schneider will present publicly at PUC Homecoming on his research. On Sabbath, April 15, he will speak at Paulin Hall at 10 a.m., with the topic "Ellen White and Phoebe Palmer: Seeking Sanctification, Leading Religious Movements." That evening at 5 p.m. in Irwin Hall he will present the Walter C. Utt Lecture, titled "The Holy Family and the Fate of the Nation."

Note: This is an archived article and does not necessarily represent current issues at Pacific Union College.