Home Funded by PUC Welcomes New Family
Daneen Akers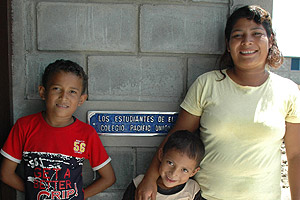 Email
| Font:
- / +
A spontaneous moment of generosity in colloquy turned into a home for Maria Luna and her two sons. Just in time for the rainy season, 20 families moved into new, water-tight homes in Empalme de Boaco, Nicaragua on May 30. One of these new homes was constructed with funds donated by PUC students, faculty and staff.

The extended PUC family got involved in the small village in Nicaragua this past February when Jake Schiedeman, a 1990 graduate of PUC who now owns the St. Helena Cyclery, returned to his alma mater to speak. He told students about his experience volunteering in Nicaragua where he has led a project to build a baseball field, public park, water tower, and now a housing development. He also shared how important service has become in his life and showed a moving video about the Nicaragua project and the people who have become so important to his life.

After presenting his story, the program's conclusion took an unexpected turn. As college president Richard Osborn thanked Scheideman for being the type of service-minded alumnus PUC is proud of, PUC Church senior pastor Tim Mitchell took the mic and invited the students to get involved. "I want to strike while the iron is hot," Mitchell said. "I don't know about you, but I'd like to see a sign on one of those houses that says 'Pacific Union College.'"

Mitchell got his wish. The PUC students, faculty and staff followed his lead, and by the end of the service, $7,861 in pledges had been collected. Donations continued to come in, and on April 6, Richard Osborn presented Jake and the St. Helena Rotary (who oversees the project) with a check for $8,388 to build a house.

At the end of May, Jake led a group of donors and volunteers to visit Nicaragua and inaugurate the 20 new homes, bringing the total number of families living in new homes to 42 (65 homes are planned for this project). He said the atmosphere was "electric"—everyone was excited to be moving in before the rainy season started. "The rain is what kills poor people," Jake said. "They were all so excited to have a real roof for the first time. Now they won't have to worry about mud under the bed in the morning or rain coming through the plastic."

Jake said the most popular house-warming gift is a mop—people have not been able to mop before, and the tile floors are an important feature of the new homes. "Everybody comes from dirt floors," he said. "So this was going to be the first time to use a mop."

All of the homes bear signs that acknowledge the major benefactor responsible for that house. One of the signs reads: "Los estudiantes de el colegio Pacific Union." That house is now a home for 28-year-old Maria Luna, a street vendor, and her two sons who are eight and five.

The contributions from PUC has made Jake even more passionate about service. "I was proud that my school got involved like that, and it really convinced me of the power of just doing something," Schiedeman said. "I looked around at the church that day and saw more than a thousand faces—educated faces. As educated Americans we have a responsibility to do something in the world."

Besides the tangible benefits of the project, Jake finds service opportunities like the Nicaragua project fun. "I get such a kick out of this," he says. "Whenever I go down there, I get such a blessing. It's like a big family reunion every time I'm there."

Note: This is an archived article and does not necessarily represent current issues at Pacific Union College.