Amnesty International at PUC: Keeping an Eye on Human Rights
Lainey S. Cronk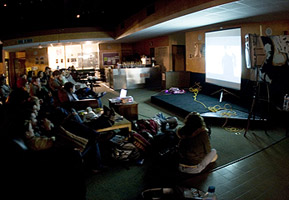 Email
| Font:
- / +
Today's college students may not have experienced torture, child slavery, or imprisonment for religious beliefs. But it's happening today; and the need to help in whatever way they can has driven PUC students to establish and lead an active chapter of Amnesty International (AI) on the campus.

With service and ministry options that range from World Missions to singing for shut-ins, PUC students are consistently involved in making life just a little better for people in need. But three and half years ago, students approached faculty members with the wish to address more political issues of human rights in the U.S. and internationally.

The result was that PUC linked up with Amnesty International, a widely respected human rights organization started in the early '60s by a British lawyer and now boasting 1.8 million members worldwide. Amnesty International continues to emphasize its original focus of "forgotten prisoners"—people imprisoned for their political or religious beliefs—while expanding to tackle other human rights issues and violations of every shape and size.

Members of PUC chapter of AI are working to spread information about injustice and social issues, as well as taking direct measures—mostly through writing letters—to make a difference. Student leaders run monthly meetings and information sessions, post fliers and posters around campus, and write letters to political leaders. This year, the chapter brought legislative coordinators from Amnesty San Francisco to speak at PUC, and this week they showed issue-driven films "Lord of War" and "The Constant Gardener" in the Campus Center on two evenings. In the fall, the chapter also took a group of students to San Francisco for the AI USA Western Regional Conference, where they were congratulated on having the largest student group in attendance!

PUC senior Mike Murtaugh, group coordinator for AI-PUC, is in his third year as an officer for the chapter. "Amnesty International thrives at PUC because of dedicated students and faculty," he explains.

Greg Schneider, PUC professor of religion and social science and a sponsor of AI-PUC, agrees. "I am inspired by the sense of mission that PUC students bring to AI," he says, "and also the broadened and deepened sense of mission that those most involved with AI-PUC take away with them."

Murtaugh also sees the work of AI as directly linked to his role as a Christian: "The ethos behind the organization plays right into my faith and understanding of the gospel," he says. "When Jesus Christ walked the earth he spoke out for those that had no voice. Human rights should be universal, no matter race, religion, color or creed. Amnesty international recognizes this and that is why I am proud to include myself as a member."

Note: This is an archived article and does not necessarily represent current issues at Pacific Union College.