All-School Colloquy Begins with Pomp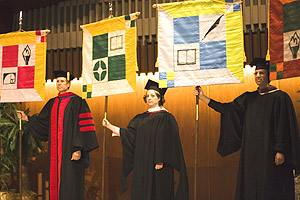 The first all-school colloquy of the year took place on Thursday, September 28, complete with the traditional procession faculty members in full regalia and bearing the school banners, the singing of hymn #1, and a church full of spirit as the college steps into a new academic year.

College president Richard Osborn introduced the program with an emphasis on this year as PUC's 125th anniversary. Director of public relations Julie Z. Lee and professors Cynthia Westerbeck and Bill Hemmerlin talked about their experience of PUC as a learning community, especially in light of last year's decision to maintain our name as a college rather than changing to "university."

They reminded the assembly that that it's about growing, learning, and finding one's way; that a liberal arts education provides students with "freedom from single-minded servitude to your profession"; and that teachers are truly invested in their students as individuals both in and out of the classroom, before and after graduation.
Note: This is an archived article and does not necessarily represent current issues at Pacific Union College.