Surprise! You're It
Lainey S. Cronk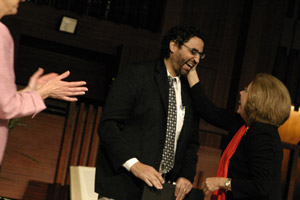 Email
| Font:
- / +
In a highly entertaining colloquy program, an astonished Aubyn Fulton was declared 2005 Educator of the Year. His gleeful wife and children escorted him to the platform amid an uproar of applause, where he received congratulations and quite a bit of good-natured "roasting" from assorted friends, family members, students and colleagues.

The all-school colloquy program included a slide show that gave a condensed history of Fulton's life, including his college afro and his obsession with the Lakers. Fulton's sister, senior psychology majors, and members of the psychology and social work department were among those who chimed in with commentary on Fulton's wardrobe (including the ever-askew tie), his spelling skills, and his campaign to avoid being educator of the year.

A PUC faculty member since 1988, and also an alumnus, Fulton has had plenty of time to make his mark at the college. When the audience could catch their breath between laughing at the comic jabs made at Fulton's lecture mannerisms and perpetual white tennis shoes, they received a very clear message about Fulton's high academic expectations, his activism, his influence on students' lives, and many other characteristics that make him a beloved and respected figure on campus. Scott Fillmore, one of the student presenters, explained, "In the last two years of being a psych major, I've become a different person – and I owe that to my psych teachers, and especially to Dr. Fulton."

Note: This is an archived article and does not necessarily represent current issues at Pacific Union College.