International Students
PUC is ranked #1 in the nation by U.S. News & World Report for diversity among National Liberal Arts Colleges, and our international students are an important part of keeping our campus culture vibrant!
International SDA Student 50% Discount
International students who meet the list of requirements and qualifications can receive 50% of tuition covered as a scholarship and can be renewed for four years.
Requirements and qualifications:
International student
Must enroll from, transfer from, or graduate from, a Seventh-day Adventist high school, college, or university anywhere in the world, including the United States, or be a verifiable member of the Seventh-day Adventist Church
Must meet regular international student admissions standards
Students must be enrolled full-time
Students must maintain good and regular student standing at PUC
Must have a college cumulative GPA above 2.0
DACA Students:
Up to five DACA students each year who meet the qualifications under the 50% discount policy will also be able to qualify for the same scholarship, including awarding process.
Students must confirm their DACA and Seventh-day Adventist status with enrollment services. This confirmation will include confirmation of time in the US or documents created through the standard verification process for DACA students.
First priority will be given to qualifying candidates from the Pacific Union Conference. Qualified DACA students from anywhere in the US will be considered after priority slots are filled.
Application process
If you are a student living outside the United States, or if you are a U.S. resident with citizenship elsewhere, we invite you to explore the possibility of attending Pacific Union College as an international student. Call (800) 862-7080 or email admissions@puc.edu if you have any questions about how to apply to PUC as an international student.
Follow these steps to complete your application:
Review your personal PUC site for information about your major, scholarships, campus life, and so much more.
Send in your transcripts, including official high school transcripts (confirming graduation), and college or university transcripts if you have attended another college. Send to: Admissions, One Angwin Avenue, Angwin, CA 94508
Send PUC your English level exam score, outlined in the section below.
Send PUC documentation of your financial plan, including a bank statement showing at least $55,559 USD on deposit in an international bank.
Submit a $1,000 deposit, which must be done before an I-20 is issued. This deposit will remain on the student's account until the student ceases to attend Pacific Union College (the deposit can be applied to the student's final quarter at PUC).
Admissions requirements
As an international student, you need to meet the following requirements to be admitted to PUC:
Meet all requirements for regular admission status (as a first-time or transfer student).
Provide certified English translations of all your transcripts.
Meet all financial requirements for international students, including the $1,000 deposit, $200 room reservation fee, and bank balance. (See the Financial Information section of the General Catalog.)
Demonstrate the ability to pursue studies in the English language by presenting a satisfactory score on one of the following exams:

Score of 80 or higher on the TOEFL (internet based)
Score of 15 or higher on the ACT, English section
Score of 430 or higher on the SAT, Critical Reading section
Score of 6.5 on the IELTS, Academic
Score of 59 or higher on the PTE, Academic version
Score of 76% or higher on the MELAB
Score of 4.0 or higher on the iTEP, Academic version
When you arrive on campus, you will be required to participate in a PUC placement process to determine your placement in English coursework (ENGL 099, 100, or 101). If you demonstrate a need for additional orientation to the English language and American culture, you will also be required to enroll in ENSL 100: English for Special Purposes.
For full information regarding PUC's admissions policies, refer to the college's General Catalog, which outlines policies for regular admission as well as for admission on probation and for returning students.
After you're accepted
There are several important steps you need to do to complete the process of becoming a PUC student. Visit our main Admissions Process page for more information, or you can call (800) 862-7080 or email admissions@puc.edu to talk with an enrollment counselor to learn more.
International Student Advising
Pacific Union College warmly welcomes international students to become part of our learning community. International students add a valuable, enriching dimension to our campus. Just as we look forward to assisting in an international student's American study experience, we also look forward to learning about the various cultures these students bring to our campus. Together, we can expand our worldviews and multicultural perspectives to better understand the world in which we live.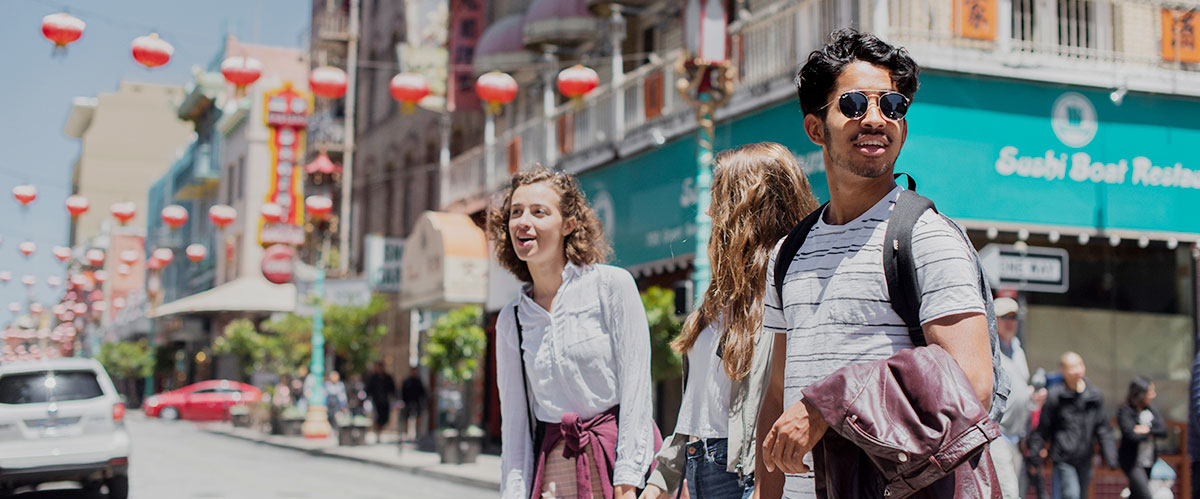 The international student advisor provides general information to assist F-1 visa students with non-immigrant questions and issues so that these students can maintain status as mandated by U.S. federal regulations. Pacific Union College is dedicated to our international students and to the protection of their student visa status. Only the international student advisor is authorized to issue and endorse I-20 forms, and update a student's SEVIS record. Our goal is to provide regulatory support, not legal advice, so that international students may achieve their educational goals. For legal advice, these students may consult with an immigration attorney.
Please use this form if you are currently enrolled at Pacific Union College and wish to take courses at another school without transferring your F-1 record.
Study in the States 10 Things You Can Do To Avoid Fraud
Study in the States Facebook Chatbot
This tool helps prospective students learn how to be become an F student in the United States.