About the forest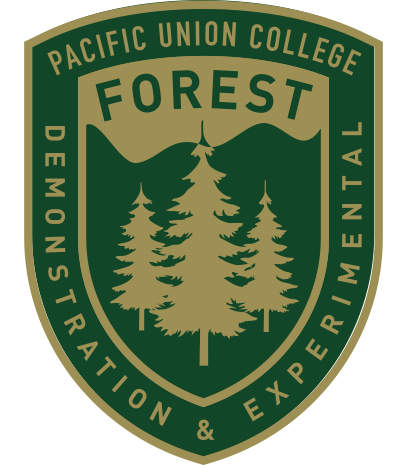 The forested lands of Pacific Union College were once the winter camp of the Wappo tribe of California Indians, who enjoyed a bountiful supply of acorns. In 1843 the land became part of a Mexican land grant to George Yount. After the Mexican-American war, settlers used the redwoods to build homes and make grape stakes for vineyards. 
Lumber was the primary industry on Howell Mountain until Edwin Angwin built his resort hotel in 1883. PUC purchased Angwin's resort in 1909. Since then, the forest has supported the mission of the college by providing lumber for classroom buildings and residence halls, firewood for heat, and recreation in the "back 40." In the 1950s, the biology faculty began to enrich student learning by studying native trees, shrubs, and wildlife.
Today the PUC Demonstration and Experimental Forest is protected by a conservation easement in partnership with the California Department of Forestry and Fire Protection (CalFire) and the Land Trust of Napa County. As such, it will always remain forest and provide learning opportunities for PUC students as well as 35 miles of recreational trails—for mountain biking, hiking, horseback riding—for students, college employees, and community members. Home to a nesting pair of Northern Spotted Owls, the rare Napa False Indigo, and some of the easternmost Coastal Redwood trees, the rich biodiversity of the PUC forest makes is especially valuable to conservationists and researchers. Our forest truly sets PUC apart and makes Angwin a unique and special place to live, learn, and grow.
Who are the Friends of the Forest?
The Friends of the Forest is a growing community group who love and support the PUC Forest. They want to give back to the place that has offered them a venue for exercise, stress-relief, and peaceful enjoyment of nature. The Friends support the Forest through volunteer work, educational activities, community outreach, and fundraising. Together, they make the PUC Forest better every day.
Become a Friend of the Forest
As a Friend of the Forest, you will be an instrumental advocate for this forestland, helping to preserve and maintain its history, integrity and accessibility. Your investment and involvement as a Friend of the Forest will help make the Forest more enjoyable and resilient, inspiring generations to recreate here for years to come. 
Friends of the Forest Annual Gift Contribution: $100
Use Guidelines
Use of Pacific Union College (PUC) property by the public is by permission of PUC, and based on observation of these rules. Blatant or willful disregard of the forest use rules will lead to loss of permission to use this property, and possible legal recourse.
PUC does not assume liability for public use of its property. Use trails at your own risk (Statute 714 of California Civil Code).
Use Hours: Open from dawn to dusk
Stay on the trails at all times 
Clean up after yourself. Leave no trace of your experience on the land
Equestrians and bicyclists are to wear helmets at all times
Leave markers, flagging, and wildlife cameras intact for ongoing forestry operations and research studies
Do not block gates or roadways to service/emergency vehicle access
Respect road/trail closures 
Organized groups or commercial activities are not permitted on the property without permission. Please contact the PUC Forest Manager for approval
The following are not permitted in the PUC Forest:
Campfires, fireworks, or any other possible sources of fire ignition 
Firearms, projectile weapons, and hunting
Any motorized vehicle use (electric "pedal assist" bicycles OK)
Construction and alteration of trails
Construction or placement of any kind of structures
Alteration of the land of any kind
Collection or removal of natural products of any kind. Take only memories
Overnight camping
Smoking of any kind (tobacco, marijuana, or vaping), alcohol consumption, or drug use
Littering
Animal Guidelines
Dogs: Must be leashed or otherwise restrained, and kept under direct physical control by their owner or handler at all times, and must meet all licensing and vaccination requirements. 
Horses: Horses are to step off the trail to relieve themselves where possible, or owners are to kick droppings off the trail. Horses are not allowed on single track trails.
On a case-by-case basis, PUC reserves the right to grant exceptions when warranted or duly requested. For more information, contact PUC Forest Management: forestry@puc.edu. Proof of exemption must be carried on person at all times when using the PUC Forest.
Forest Map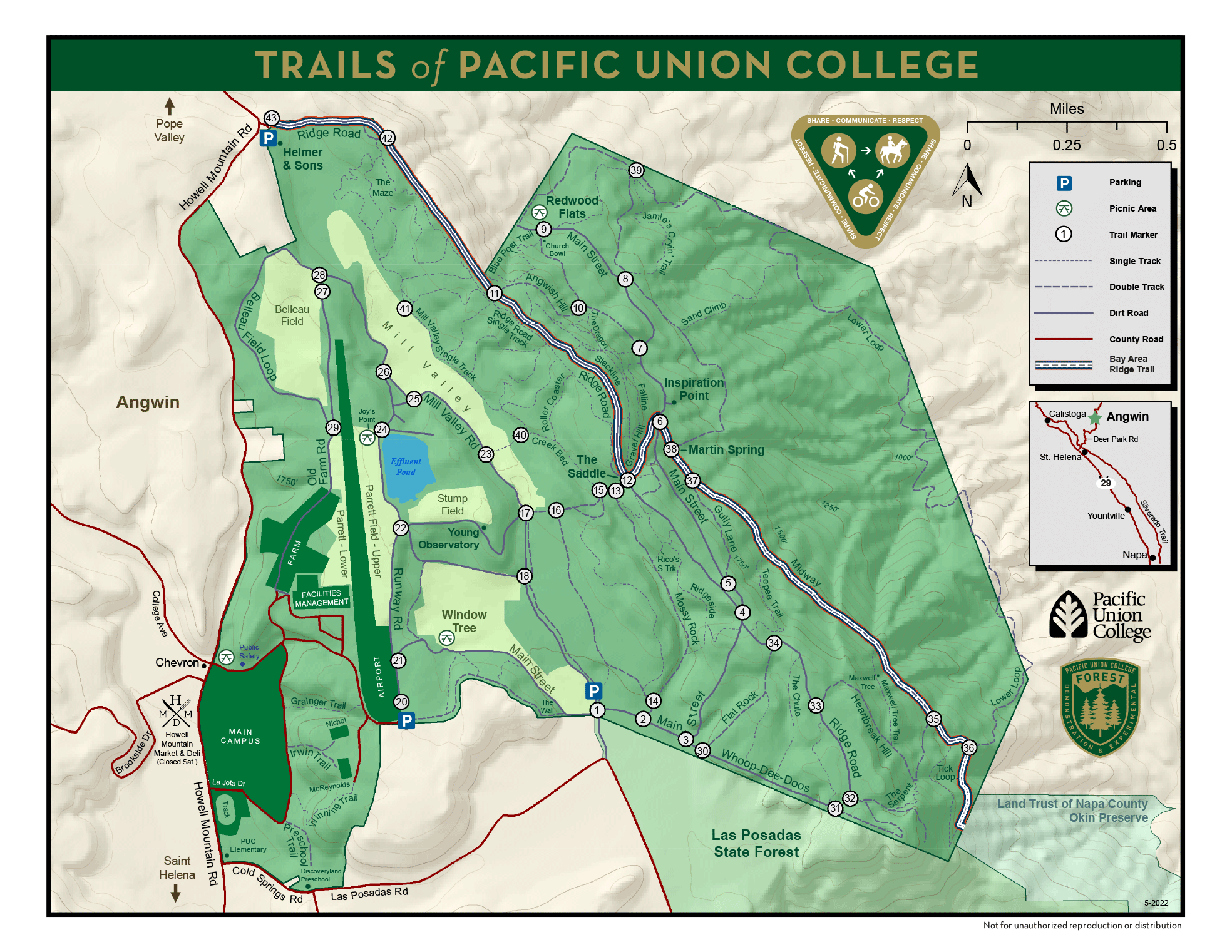 PUC Signs Trail Agreement with Open Spaces District
For years, the trails of Pacific Union College's forested lands have been known mostly by word of mouth; even locals are sometimes unaware of the college's 35 miles of recreational trails through more than 850 acres of rich biodiversity and striking beauty.
August 30, 2019