General Information
Student Handbook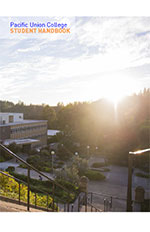 The Student Handbook helps you become familiar with the resources and opportunities available to students, as well as the policies that govern student privileges and responsibilities as members of the PUC community.
PUC Student Handbook
The handbook that all students should read and abide by.
Grievances
PUC has official procedures for individuals or groups to file grievances if they believe they have been or are being treated in an unjust or unethical manner, or who believe they have been discriminated against because of race, ethnicity, socioeconomic class, gender, age, religious belief, sexual orientation, and disability. If informal attempts to settle the issue with faculty members or work supervisors are not sufficient, the formal grievance process can be followed. Students submit grievances to the appropriate teacher, work supervisor, or residence hall, who then submit them to the next higher administrator. For more information on specific types of grievances and the guidelines for writing and submitting grievances, download the student handbook.
Campus Communication
Student Life coordinates student methods of campus information communication. The office stamps approved posters to be posted on campus and also oversees the Big Screen in the Dining Commons, announce@puc.edu e-mails, and ext. 5152 voicemail announcements.
Big Screen
E-mail bigscreen@puc.edu to submit your Big Screen announcement. Attach a 640x480 pixel .bmp file of your announcement (PowerPoint slides may also be submitted). Please include the dates you would like your announcement to run in your e-mail. For more information call Student Life at ext. 7362.