Getting to PUC
A variety of transportation options and routes are available for getting to and from PUC and for getting around in the area.
When using a GPS system, please do not follow directions to drive up Old Howell Mountain Road from the Silverado Trail. Instead, continue down the trail until you reach the blinking red light and proceed east on Deer Park Road.
From San Francisco International Airport
Go north on U.S. 101. Follow signs to the Bay Bridge (U.S. 80 east) toward Sacramento.
Take U.S. 80 east after crossing the Bay Bridge. Cross the Carquinez Bridge.
Turn off at the Napa, Marine World exit onto HWY 37.
From HWY 37 turn right (going north) on HWY 29.
Continue through the towns of Napa, Yountville, Oakville, Rutherford, and St. Helena. One mile past St. Helena, turn right on Deer Park Road, which turns into Howell Mountain Road. (8 miles to PUC).
From Oakland International Airport
Take HWY 880 north.
Merge onto U.S. 80 east toward Sacramento.
Follow directions in number 2 above.
From Sacramento
Take U.S. 80 west toward San Francisco to HWY 12.
Take HWY 12 toward Napa to HWY 29.
Turn right on HWY 29 and follow directions in number 5 above.
Distances
From San Francisco Airport - 87 Miles
From Oakland - 65 Miles
From Sacramento - 92 Miles
From Napa - 30 Miles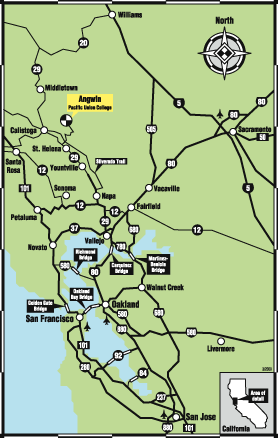 Angwin Campus Driving Directions
Find out how to get to PUC without getting lost in the beautiful Napa Valley.
Angwin Campus Map
Use the campus map to find buildings on campus, names, and locations.