Search - Emily Mathe and Cambria Wheeler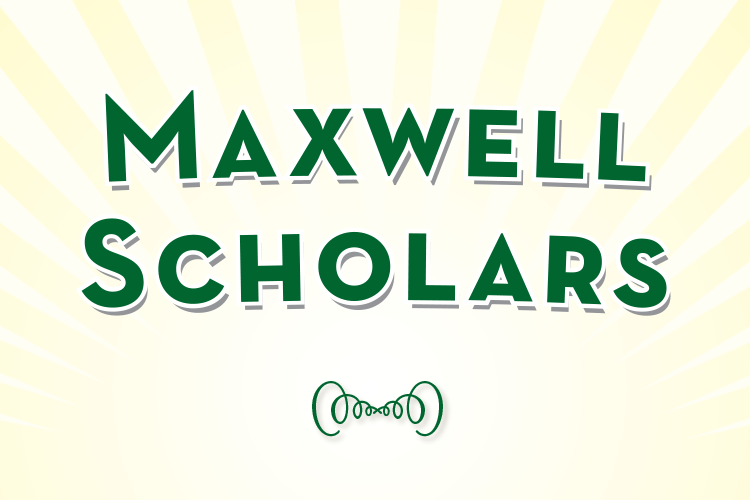 By Emily Mathe and Cambria Wheeler on July 22, 2014
Among the incoming freshman coming to Pacific Union Collegein September are five exceptional students who have been chosen as this year'srecipients of the Maxwell Scholarship. Named for PUC's iconic presidentialcouple, Dr. Malcolm and Eileen Maxwell, this prestigious award is given tostudents who show outstanding academic achievement, exceptional leadershipexperience, and a commitment to Christian service. The Maxwell Scholar Programawards recipients a $15,000 renewable scholarship for all four years theyattend PUC.Alexander Chang of Grass Valley, Calif., dedicated hishigh school career at Pine Hills Adventist Academy (PHAA) to scholastic,athletic, and extracurricular success. The Grass Valley, Calif., native wasstudent association president his senior year, starting new programs likePHYSICS (Pine Hills Youth Spiritually Invigorating Campus Soldiers) and a Kicks4 Kids shoe drive. During high school this natural leader also won awards inmultiple sports and captained the basketball and flag football teams. Alex hasbeen on six mission trips since 2006, assisting with construction projects,medical and dental services, Vacation Bible School, and Week of Prayerprograms. He also succeeded scholastically as a member of the National and asthe recipient of PHAA's top academic awards in multiple subjects. Alex islooking forward to starting classes at PUC in September. "I'm really excited tostudy subjects that really interest me, meet new...
Read Story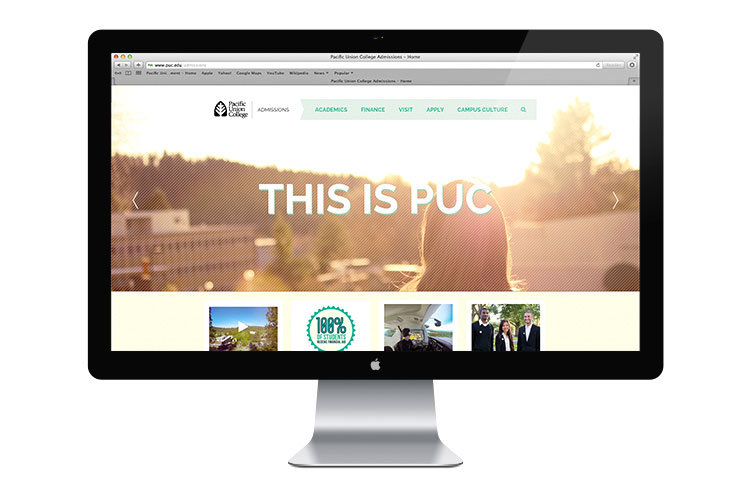 By Emily Mathe and Cambria Wheeler on May 28, 2014
Pacific Union College's new mobile friendly admissions website, launched in February, has been recognized for achievement in both design and marketing. Most recently, the website garnered a 2014 American In-house Design Award from Graphic Design U.S.A., an organization that sponsors multiple graphic design competitions. The In-house Design Award spotlights the outstanding work by in-house designers, recognizing them both for their talent and for the challenges they face and the unique value they bring to their institutions. The In-house Design Award competition receives more than 4,000 submissions each year from design teams that work within the institutions they serve instead of at design agencies, with a very select 15 percent recognized with a certificate of excellence. Pacific Union College received a certificate for the admissions website as well as a congratulatory letter to the college's administration. In addition, the website is eligible for publication in the In-House Design Annual, with a circulation of over 100,000 professionals. Earlier this year, PUC's admissions website won a silver award from the 29th Annual Education Advertising Awards, sponsored by Higher Education Marketing Report. Of nearly 2,000 entries, PUC was amongst the 146 institutions granted a silver award and was one of only 31 winners in...
Read Story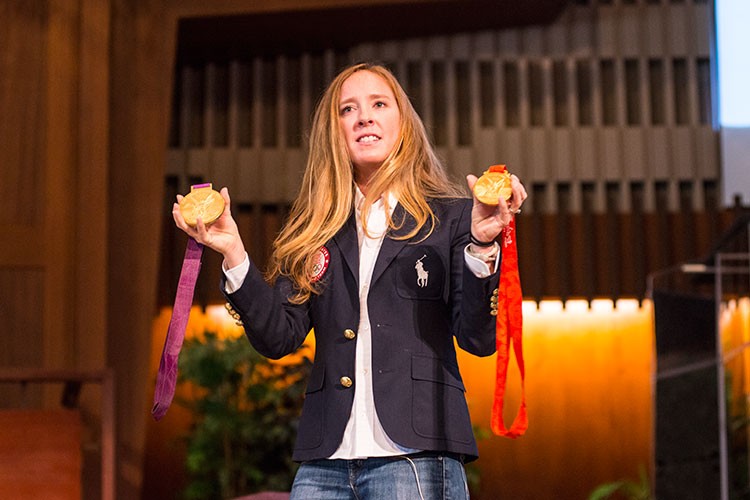 By Emily Mathe and Cambria Wheeler on November 8, 2013
With her medals displayed on the platform of the PUC Church, Mary Whipple described her journey to gold during the November 7 installment of the Colloquy Speakers Series. Whipple was the coxswain of the United States Women's 8+ Rowing Team, leading the team to five world championships, a silver medal in the 2004 Athens Olympics, and gold medals in the 2008 Beijing and 2012 London games. Whipple's presentation began with a video clip of her team's victory at the 2012 London Olympics. The footage showed the intensity of the race, as well as the incredible precision and coordination exhibited by the American team as they crossed the finish line well ahead of the rest of the pack. Whipple's presentation described the extraordinary teamwork and determination required on the journey to that finish line. As the team's coxswain, Whipple serves as an in-boat coach and calls instructions to the rowers. Her job is primarily to unite her teammates, Whipple explained. "It's my job to turn eight individuals into one person—one dream." Whipple's Olympic dream and involvement with rowing started out "innocently." While a student at Sacramento Adventist Academy, the Orangevale, Calif., native joined a rowing team at a local aquatic center,...
Read Story
---