Spring Campus Plan
Classes start March 29 via remote learning.
Exceptions apply - please see below for details.
Committed. Prepared. Together.
The PUC Spring Campus Plan is below. Fall 2021 details will be coming soon as we look forward to welcoming all students back to campus.
We are happy to confirm that PUC will welcome all students back to campus in Fall 2021! Classes will return to in-person instruction and residence halls will be open for all students. We will continue to follow county and state guidelines as needed for the health and safety of our campus family - details to come soon.
Your Safety
Campus health and safety improvements are continuing across campus for those who will be here and to make PUC ready for a gradual, phased re-introduction of the full campus family as soon as we can.
General On-campus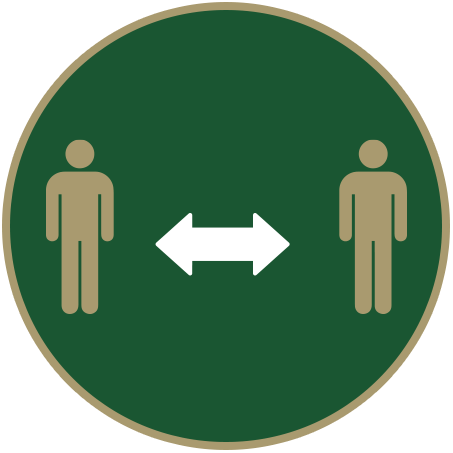 Social Distancing
At least 6 feet is required, which isn't hard on our spacious campus. Adjustments are being made for dorms and other shared spaces.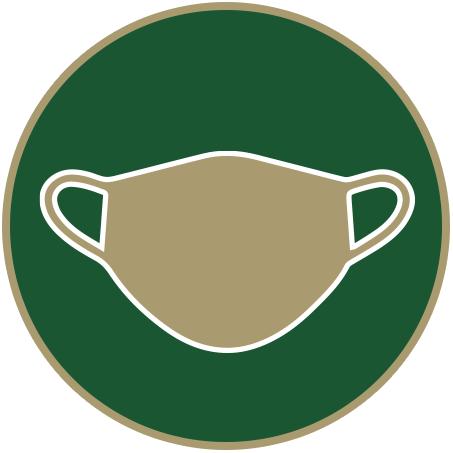 Face Coverings
When distancing can't be guaranteed, face coverings will be required.
Daily Health Checks
Temperature checks and a quick health survey every day will help ensure a healthy campus.
We've made some positive changes for your safety, including:
Removing tables and chairs to prevent people from congregating in the dining areas
Adding floor decals to take the guessing out of social distancing
Enforcing handwashing and station disinfecting protocols every 30 minutes
Eliminating any self-serving station...let us take care of it for you!
Adding more sneeze guards to keep you (and us) safe
Taking temperatures of our staff at the beginning of each shift
Making sure all of our associates are wearing face coverings
Switching over to disposable plates, bowls, and individually wrapped utensils
Offering utensils to each guest individually
Placing hand-sanitizer dispensers throughout the café
Going cashless to limit contact between you and our cashiers
Individually packaging additional grab & go items such as desserts, whole fruit, baked goods, etc.
Offering individual portions of condiments
As you'd expect, we're implementing some serious sanitation and service measures to ensure you can dine with us as safely and comfortably as possible. We'll go into those in more detail later.
While COVID-19 safety is a key priority, it is not our only one. We still believe that food has an important role to play in individual wellness and in building culture and community here at PUC. Our chefs will still be cooking from scratch, using fresh local and seasonal ingredients that meet our sustainability standards. (We were thrilled when the Humane Society of the United States ranked Bon Appétit the #1 food service company, the only one with an A+ grade, in their recent Food Industry Scorecard!)
In addition, you will continue to find abundant plant-forward, vegetarian, and vegan options as well as ones that are made without gluten-containing ingredients every day. If you have a food allergy or other dietary restriction, please reach out to Allen Plouffe GM for Bon Appetit and we will work with Student Life, our registered dietitian, and you to make sure you can enjoy plenty of delicious food, safely, with us. Email me at Allen.plouffe@cafebonappetit.com.
So basically, how is dining going to work?
We are designing the Dining Commons to allow for social distancing. Our café and the Grind will now feature a one way in and one way out flow. You will enter on the main entrance go through the sliding doors and directly to the station where you will either pick up your mobile order, purchase grab and go or have a quick custom made dish served quickly and safely. You will then go directly to the cashier where you can now check out touchless. Floor and café signage will make the process easy and effortlessly.
We are setting up the stations in the cafés for speed, with many popular items prepackaged and ready to eat. We are adding the addition of hot grab and go items in both the Dining Commons and the Grind during meal periods. With luck our mobile ordering app will be available for the first day of classes allowing for further customizations and speed.
What's the deal with masks and seating?
We'll be wearing masks while serving you. PUC is requiring students to wear masks in lines and while walking around in the café. We will also have some directional wayfinding to reduce crowding. Currently due to Napa County health regulations regarding restaurant service all meals will be placed in to go containers and inside dining is closed. You may take your meal back to your dormitory room or enjoy your favorite spot outside on campus. We will continue to monitor Napa County regulations and hope to have indoor dining available to students soon. These regulations also apply to The Grind.
What's happening with the self-serve salad bar, condiment station, soda station, etc?
We're happy to serve you! All self-service items are being reconfigured to be served by our staff.
Salad bars: At PUC our salad bar is currently closed. We will be providing grab and go salad options for our students. Please feel free to let us know if you have a favorite salad you would like to see made.
Condiments: Ketchup, mustard, hot sauce, soy sauce etc are moving behind their stations, ready to be given to you in packets or a small cup.
Silverware: Reusable silverware for dining in or plastic to-go silverware will be provided with each meal.
Beverages: Our fountains beverage station will be closed for the time being. However the Grind will still be open for custom drinks. Sorry, no outside containers will be allowed in the Grind. We may also have attendants at bottled beverage coolers during peak periods to reduce touching of door handles.
Can I still get Made Without Gluten-Containing Ingredients meals? Where have the packaged gluten-free items gone?
MWGCI and gluten-free items will be available in the café, by request from behind the appropriate station. For example, the deli and grill will have GF breads and pizza crust is available in a GF version. We will also offer MWGCI entrée's at every meal period. Please ask the cook on that station for this option.
I am vegan, where do I look for items?
We will have vegan options available throughout the café, always incorporating these into our regular menus for all stations.
So … what's going to be available where and when?
View all our café's current hours of operation and menus at: puc.cafebonappetit.com
At the Dining Commons you will find:

Premade entrée salads and daily soup selections served by staff
Your usual favorites plus specials from the Deli, Wellness bowls, taqueria and pizza on a rotating menu
Bottled beverages and assorted retail items
The expansion of available hot grab and go items
Desserts, pastries, and fruit will be available wrapped for safety and ready to go in our former salad bar area
Mobile app ordering and pick up station once implemented to increase speed, convenience and social distancing

At the Grind:

Addition of hot grab and go items during meal periods
Your regular coffee and other beverages made to order
All of your prepackaged convenience and personal items still available for purchase
Mobile app ordering and pick up station once implemented to increase speed, convenience and social distancing
Pop ups just like before served in a socially responsible manner
The addition this year of a frozen yogurt machine courtesy of your Student Senate!
What other COVID-19 safety measures are Bon Appétit dining staff taking?
All dining employees will wear masks and gloves at all times.
All staff are going through COVID-19-specific training designed by sanitation experts and updated regularly as new issues emerge. Topics covered include proper disinfection, the use of personal protective equipment (PPE), physical distancing protocols, and more, and are integrated with food safety and sanitation protocols.

Team members wear "I'm Trained" buttons to let you know they're up to date on all safety measures.
A café supervisor will be designated for each meal period to maintain physical distancing by guests and to ensure staff follow cleaning/disinfection protocols and schedules.
Daily café safety inspection by management to make sure that all proper safety procedures in regards to COVID are being followed.
Separate workspaces for food preparation will allow for required safe physical distancing (6-ft rule) between colleagues.

Amped-up cleaning and sanitation schedules with clearly detailed procedures that meet or exceed all local guidelines and national best practices. This includes frequent disinfection of high-touch surfaces, including wiping down tables and seats between guests, disinfecting all highly touched areas such as door handles every 20 minutes during peak traffic times and 30 minutes on lower.
Pre-shift wellness screenings for employees in alignment with local regulations, which include nocontact temperature scans and daily interview questions.
Decision tree and step-by-step action plan for unit managers who have employees who are sick or who may have had contact with someone diagnosed with COVID-19. (Bon Appétit offers paid sick leave to all employees.)
I have a question you didn't answer! Who can I ask?
Your Academic Experience
While some things will be different this spring quarter, what won't change is our focus on providing you an excellent education. Learn more about what changes you can expect.
Academic Calendar. Classes start on March 29 for Spring Quarter. See full calendar.
Prepared Faculty. Faculty have been trained to deliver courses using higher education best practices during COVID restrictions. 
Classroom Preparation. Adjustments are being made to classroom capacity, physical spacing, and cleaning schedules to make sure you stay safe while you learn.
Technology Solutions. Online instruction and other solutions will help bridge the gap for those who can't be in the classroom.
Essential Services Students
We are collaborating with the Napa County Health Department to allow as many students as possible from essential services programs to take classes and reside on campus. These essential services programs will likely include Nursing, Emergency Services, and Aviation. More information to come soon.
Admissions Updates
We know times are challenging and we want to make it as simple as possible for you to enroll at PUC. Below are updates to our admissions process during this time. If you have any questions or run into any roadblocks we are here to help you. Please call (800) 862-7080.
Commitment Form. We are currently waiving the enrollment fee. Please fill out the Pioneer Commitment form to indicate your intent.
ACT and SAT test scores. We are currently waiving test scores for Spring 2021 applicants.
International Students Spring 2021
International students will be able to take classes remotely from wherever they are (some exceptions may apply). For those in need of housing, international students can submit an application to remain on campus and take remote classes from their residence hall.
Pacific Union College is dedicated to our international students and to the protection of their student visa legal status. We will meet all Homeland Security requirements to operate as an approved hybrid on-site campus for Spring 2021. 
International students can feel secure that continuous adjustments will be made as government policy changes throughout the upcoming year. Based on government policy, new international students attending Pacific Union College this spring will receive a new, approved I-20 from the International Student office (I-20s will be issued to returning students as needed.) For additional information, please contact Crista Peterson at isa@puc.edu.
Application to Remain on Campus
We know that for some, being on campus provides the best environment for learning. The state of California has provided assessment and mitigation guidance regarding students who face food, housing, and access insecurity. We have created an online application form for students who fall into one of these categories and have a significant need to reside on campus.