Pacific Union College proudly announces the 2017 recipients of the Maxwell Scholarship, the college's most prestigious scholarship. Incoming freshmen Bethany Erb, Victoria Gabardi, Alex Nelson, Emma Tyner, and Justin Youn were selected as the newest Maxwell Scholars, joining a group of 35 students awarded since the establishment of the scholarship in 2010.
Named after the late Dr. Malcolm and Eileen Maxwell, the beloved former president and first lady of PUC, the Maxwell Scholarship is awarded to five high school seniors in recognition of their academic achievement, outstanding leadership experience, and a commitment to Christian service in all areas of their lives, both in and out of the classroom.
Vice President and Academic Dean Nancy Lecourt was personally involved in the selection process and is looking forward to the contributions the Maxwell Scholars will make on the PUC campus. "The Maxwell Scholars Program is the most prestigious of the scholarships we offer," she notes. "Recipients are not only outstanding students; they are expected to distinguish themselves as leaders in many facets of student life. Many have gone on to exceptional careers in business, human services, ministry, the arts, education, and numerous other fields."
As Maxwell Scholars, the students will receive full tuition for four years valued at approximately $112,000. Each of the recipients is anticipated to be a full-time PUC student beginning the fall of 2017.
Bethany Erb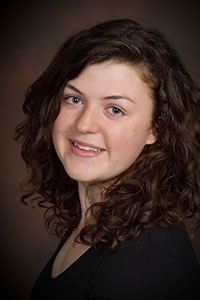 Bethany Erb of Mount Horeb, Wis., is a multi-faceted student who spent her years at Mount Horeb High School involved with leadership, several musical ensembles, and community service. She co-founded Mount Horeb High School's first non-denominational Bible study focused on worshipping God while attending a public campus. Bethany participated in a plethora of other community service projects and was heavily involved with her local church in various capacities, and also served as cradle roll director for the Wisconsin Camp Meeting for several summers. She received the Silver Cord Award for accumulating over 140 hours of community service while in high school, and was the national finalist in the 2015 C-SPAN's video documentary competition. Following graduation, Bethany spent three months as a student missionary in Tanzania teaching English and piano before going on to Australia to work as an intern for ARISE for Life, where she served in multiple roles; most notably as part of an international team to plant a worship center in Newcastle.
"Most importantly, and aside from all her skills, what sparkles about Bethany is her Christ-centered character and servant-hearted motivation," says Camila Skaf, the CEO at SEEDS Newcastle.
Victoria Gabardi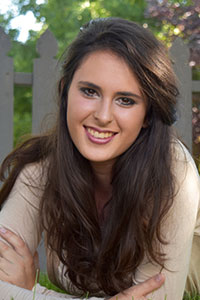 Hailing from Grand Junction, Colo., Victoria Gabardi has made a lasting impression at Palisade High School, where she has been involved with varsity sports, the leadership council, and many other exemplary extracurricular activities. She has served as the secretary of Help Light the Night, a student-based organization bringing solar lights to needy families in India, Ethiopia, and Haiti and co-founded Little Treasures, Inc., which provides activity boxes for children in the hospital. Victoria was part of the leadership council that organizes Live About the Influence, a week-long event to help reduce drug use, discourage bullying, and encourage safe driving habits; she also volunteered for a summer at John McConnell Math & Science Center, helping teach elementary students. She has accumulated 230 volunteer hours at St. Mary's Hospital, and currently volunteers on the surgical floor. Victoria has been heavily involved with her local church as an Adventure Club leader, teaching twice a month to the Little Lambs group. Additionally, she is an accomplished cellist who has performed with the Palisade Symphony Orchestra, Palisade Chamber Orchestra, and the Colorado Mesa University Celltheamo Group.
Ann Conaway, Victoria's mathematics teacher, says, "Mature beyond her years, Victoria has volunteered in a variety of settings that show a commitment to a life of service to others. … She is acutely aware that each of us can contribute in a way to improve the lives of those less fortunate."
Alex Nelson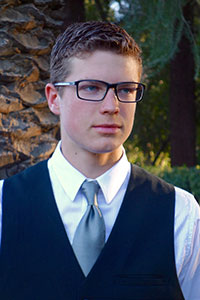 A senior at Mesa Grande Academy, Alex Nelson from Redlands, Calif., is a dedicated leader committed to improving the lives of people across the globe. He has held multiple class officer positions and has been a National Honor Society member all four years of high school. Alex has participated in several mission trips to Haiti and one mission trip to the Dominican Republic, where he lived for five years growing up as his father worked as the medical director of a non-profit hospital. An accomplished athlete, he has been a member of the Redlands Interscholastic Cycling Organization as well as on MGA's cross country team for several years, in addition to being a Cyclery USA Junior Road Racing team member. Alex also enjoys running, and has run in the LA Marathon, finishing in under three hours, and recently ran the Boston Marathon. Notably, in 2016 he finished 2nd overall in the Lake Tahoe Triathlon Half Ironman competition.
"Alex's spiritual commitment to follow Jesus is what drives his choices in life. He truly seeks to put God first in everything he does. This is reflected in the choices he makes, the way he treats others, his commitment to excellence, and his desire to help his fellow man through ministry," says Zach Thorp, the senior pastor at Redlands Seventh-day Adventist Church.
Emma Tyner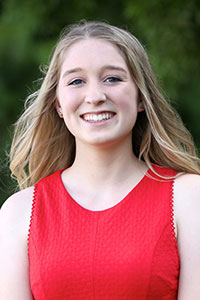 Emma Tyner of Angwin, Calif., has spent her time at Pacific Union College Preparatory School heavily involved in student government and community service. Throughout high school, she held various positions within the school's Student Association, including executive vice president and chair of student senate, spiritual vice president, as well as being the student representative on the school board. Emma also participated in multiple mission trips to the Dominican Republic, Panama, and Belize. Additionally, she has earned over 200 hours of community service, many of which were with Youth With a Mission, helping pass out care packages to the homeless in San Francisco. Emma was selected for a summer fellowship position to serve as a Human Voicebank Initiative Ambassador, which is an effort to gather speech recordings from people of all ages around the world. Currently, Emma works as a lab teaching assistant at Pacific Union College for college-level chemistry classes and tutors for the subject at the school's Teaching and Learning Center.
Tom Amato, executive director of the Napa Valley Youth Advocacy Center, says, "Emma possesses an outstanding 'work ethic' in whatever she pursues. … She is well rounded and driven to use her skills and warm, outgoing personality to be all she can be to the Glory of God and all those around her."
Justin Youn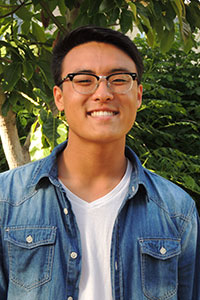 A senior at El Camino High School, Justin Youn of Oceanside, Calif., is ranked second in his graduating class and has been recognized as a CollegeBoard AP Scholar. He has played varsity tennis all four years of high school and was selected to the San Diego Union-Tribune's All Academic Team for Boy's Varsity Tennis. Justin has been involved with multiple extracurricular clubs, including the Politics Club and Red Cross Club, and been involved in many outreach events, such as beach and park cleanups, feeding the homeless at a local shelter, and participated in a mission trip to Mexico. He has served as president and vice president for  Student Adventist Leadership Training (SALT), which plans events and leadership training for seven Adventist churches in Southern California, and as a church youth council and Vacation Bible School leader for several years. Justin also spent one summer as a Youth Rush student literature evangelist, and as a Palomar Medical Center Pathmaker intern assisting in caring for patients on the hospital's oncology floor.
"Whether it is helping a new youth member feel included or giving up a week of his vacation to help mentor elementary students, Justin demonstrates that compassionate service is ingrained into the very fiber of his being," says Joseph Oh, associate pastor at San Diego Central Seventh-day Adventist Church.
Each year, PUC awards over $40 million in financial aid to approximately 1,500 students, including over $189,000 to sophomores, juniors, and seniors through alumni scholarships and endowments. Learn more about the college's scholarship opportunities at puc.edu/scholarships or call the student financial services office at (800) 862-7080, option 1.