SA Officers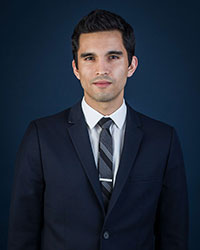 Nic Miller
President
B.S. in Marketing Communications
Nic Miller enrolled at PUC after graduating in 2012 from PUC Preparatory School, a Seventh-day Adventist high school in Angwin. As a freshman, Nic explored a BFA in Graphic Design and professions in English and education. Today Nic has found harmony between his love for design and appreciation for words in the field of marketing communications.

In 2014, Nic joined the Student Association as its Marketing & Public Relations Vice President, developing the group's social media presences and working with other SA offices to produce and promote events and projects. On February 27, 2015, Nic was elected president of the Student Association for the 2015/16 school year. During his term as president, Nic hopes to capitalize on student input as a means of improving and customizing campus life and plans to form closer relations between the student body and the community.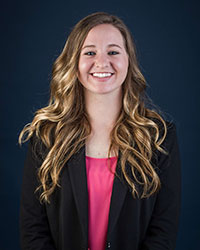 Madison Bishop
Social Vice President
Pre-Nursing
Madison hopes to create events that bring all of the different aspects of PUC's student body together. She wants everyone to have a great time and an awesome year! She chose PUC because it felt like the place where she was supposed to be. She knew her relationship with God would grow here at PUC.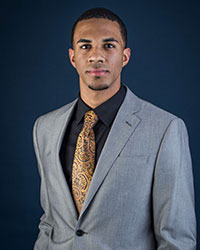 Michael Lawrence
Financial Vice President
B.B.A. Emphasis in Finance
Michael began school at Pacific Union College after graduating from Loma Linda Academy in 2013. Michael has had his hand in several extra curricular activities ranging from Varsity Basketball to Student Senate. His involvement is driven by his desire to shape the way students view a place he has come to call home. Michael is focused on making students the center of his SA career. For him, this means creating more opportunities for students to be benefited within their own comfort zones while still exposing them to the diversity that exists on campus. Michael enjoys spending time with friends, meeting new people and discovering unique places in Napa Valley and the Bay Area. Michael plans to become a Wealth Manager when he graduates in 2017.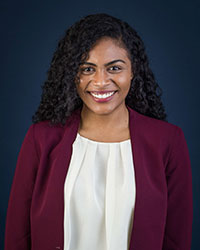 Taleah Tyrell
Executive Vice President
B. S. in Biomathematics
In choosing an institution of higher learning, Taleah Tyrell had two criterias in mind: an academically enhancing atmosphere, and a Christian community, PUC fit both of those. After attending PUC for two years, she felt compelled to make the PUC community better. This year, she has the opportunity to serve on the Student Association as Executive Vice President. She hopes to make changes that make residents stay at PUC more enjoyable while encouraging communication between administration, facility, and students. She also hopes to make students more involved in voicing their concerns and making changes around campus. Being a part of Student Senate this past year has opened her eyes to several issues and needs around campus and she hopes to build a team of senators ready to take on the challenge of making PUC a better place.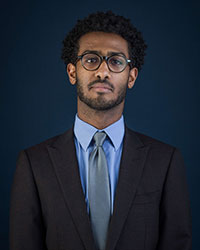 Robell Nyirendah
Religious Vice President
B.A in Theology and B.A in Business Administration
Robell choose to transfer to PUC to be closer to his family and to begin laying the foundation for his future ministerial work in Northern California. He also wanted to be on a diverse campus that was surrounded by God's beautiful nature.
Robell wants to help create an environment that allows for students to find a deeper relationship with God that not only engages their spirit but their mind and our world. He wants to help continue to keep vespers inspiring, engaging, and galvanizing. Also Robell wants to build on the amazing ministries that PUC has and maybe even help create a couple new ones. Because he believes that Christianity is not only meant to be heard but to be felt.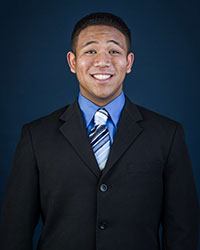 Jordan Delarmente
Public Relations & Marketing Vice President
B.S. Marketing Communications/Minor in Public Relations/Journalism
Jordan chose PUC knowing he would be surrounded by those that share the same values, morals, and Christian beliefs that he does. Coming from a public high school, Jordan felt it was time to experience the pleasures of being in an Adventist education system.

Jordan's goals for the year include a focus on communicating and marketing SA events to the student body, in hopes of developing a strong and lasting relationship.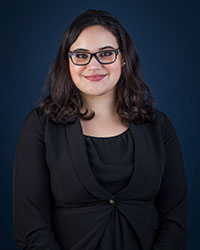 Tara Hattendorf
Campus Chronicle Editor
B.S. in History, Political Studies and Ethics / Minor in Journalism / Pre-Law
Tara has been at PUC for all her college education and she has loved every minute of it. She first chose PUC as a senior in high school because of the journalism program, and it was all that she hoped it would be. What Tara enjoys most about PUC is the environment: the community on campus as well as the natural life around the school. Coming from Southern California, Tara finds the abundance of trees a breath of fresh air — literally.

Tara has many plans for next year for both the Campus Chronicle and for PUC next year. Through the Campus Chronicle, Tara wants to feature the diverse student body to help people feel like they know their fellow students. With a vision for quality and thought-provoking, as well as some more light-hearted, content, Tara plans to produce a newspaper that will get people reading and talking. Tara believes that every student has a voice and an opinion that can bring positive change to the world, and she wants to give them an opportunity to write. Tara hopes that the Campus Chronicle can be a voice for students to both the school and the greater community, sharing their unique thoughts and insights to the world.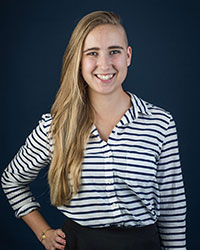 Sarah Martinez
Video Producer
BFA in Film and Television
As PUC's Video Producer, Sarah hopes to reach as many students, future and current, in the most relatable ways in hopes of really capturing the campus culture. Sarah chose PUC because she values a genuine, community-inspired atmosphere and tight knit groups and families.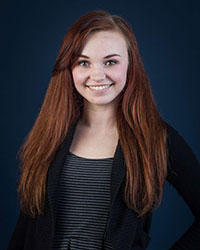 Sierra Driver
Diogenes Lantern Editor
Fine Art
Originally from Idaho, Sierra came to PUC as a freshman in 2014 to explore her creative talents through the school's Visual Arts department. Now as SA's Diogenes Lantern editor, Sierra hopes to create a yearbook that truly captures the PUC spirit in a way that students will cherish throughout life.
Copyright © 1996-2016 Pacific Union College | All Rights Reserved.