In Loving Memory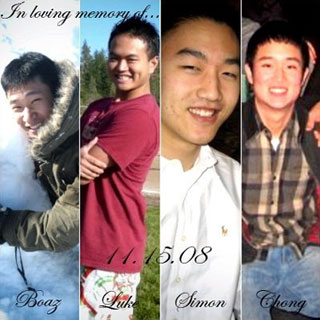 Provided by Craig Chung
Four years ago today, Pacific Union College lost four incredible young men to a tragic car accident at the base of Howell Mountain. Luke Nishikawa, Boaz Pak, Chong Shin, and Simon Son made the world a brighter place, and the pain of their loss still stings four years later.
Today we fondly remember our dear friends, and look forward to the day when God will restore them to our arms.
If you knew Luke, Boaz, Chong, or Simon, please share a thought or memory.
Luke Kotaro Nishikawa
22 years old
Honolulu, Hawaii
Luke was born on April 30, 1986, in Mountain View, California. He spent most of his childhood in Northern California; his family moved to Hawaii in 2001. After graduating from Hawaiian Mission Academy in 2004, Luke returned to California to study at Pacific Union College. Luke, a history major, was involved in several ministries on and off campus. He played guitar in a praise band for school services, led Bible studies for the Korean Adventist Student Association, and was very involved in youth ministries at Rohnert Park Korean Seventh-day Adventist Church. On the morning of the accident, Luke worshiped at the Mountain View Japanese Seventh-day Adventist Church. In the afternoon, he interviewed some of the members of the Japanese church for his senior history thesis project, which focused on the Japanese internment during World War II. Luke is survived by his father, Koji Nishikawa; mother, Masumi Nishikawa; and sister Christal, a student at PUC.
Boaz Joshua Pak
20 years old
Hidden Valley Lake, California
Boaz was born on December 21, 1987, in Defiance, Ohio. His family later moved to Northern California, and he enrolled at Redwood Adventist Academy in the fifth grade. When his parents moved to Hidden Valley Lake, California before his junior year, Boaz moved in with the Gienger family so he could remain at Redwood. In high school, he was a top student, and he loved playing sports, video games, and was involved in many campus activities. He graduated from Redwood in 2006 and later went on to PUC as a biology/pre-pharmacy major. Boaz was the Sabbath afternoon community outreach coordinator for the youth group at Rohnert Park Korean Seventh-day Adventist Church. Boaz is survived by his father, Chan Pak; mother, Won Pak; and sisters, Grace and Anna.
Chong Whon Shin
20 years old
Aloha, Oregon
Chong was born on February 3, 1988, in Edmond, Oklahoma. His family moved to Beaverton, Oregon, when he was still in elementary school and stayed in the Oregon area. In 2006 he enrolled at Pacific Union College as a business administration/pre-dentistry major. Chong was a tutor in PUC's Teaching and Learning Center and also involved in ministries at the Rohnert Park Korean Seventh-day Adventist Church as the evening activity coordinator for the youth. On his last Sabbath, he had been at church, helping out as usual. An athlete, Chong loved all sports, including tennis, basketball, and soccer. He was also a fan of the Tennessee Titans and video games. He is survived by his father, Bong Shin; mother, Chong Shin; and brother, Young.
In lieu of flowers, memorial contributions can be made to Oregon Central Korean Church, Chong Shin Memorial Fund, 12707 NE San Rafael St., Portland, OR 97230
Simon Chulmin Son
19 years old
Hidden Valley Lake, California
Simon was born on September 14, 1989, in Northern California. He attended Pleasant Hill Adventist Academy until the first grade before moving to Camino Pablo Elementary School in Moraga, California. He graduated from Campo Lindo High School in 2006 and enrolled at Pacific Union College as a nursing major. Simon loved sports and enjoyed playing soccer, basketball, swimming and tae kwon do. He also loved to play World of Warcraft. On Sabbath morning, he was with the Homeless Ministries group in the Bay Area, feeding the homeless. Simon is survived by his father, Heung Kwon Son; mother, Soon Lim; and sister, Anna.
This page will continue to be updated as we receive more information about each student.
Thoughts and Memories
327 memories | View all thoughts/memories »