PUC Students Minister in Egypt
Morgan Chinnock, May 4, 2007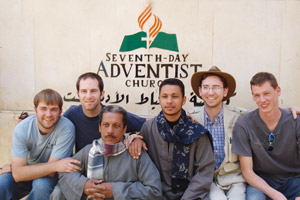 In a nation of more than 75 million people, the Egyptian Seventh-day Adventist Church has only 834 members, as of January of this year. Such a small group can use as much outside encouragement as they can get, and that is exactly what 17 PUC students and three sponsors set out to give during PUC's spring break, from March 22 to April 2.

Although the students were tired from winter quarter finals, they were energetic about their goal: an eleven-day trip that aimed to support and invigorate the churches of Egypt through VBS, Pathfinders, and musical programs.

During their time in Egypt, the group stayed in Cairo for two weekends and visited small villages in Upper Egypt during the week. They led church services, donated money to the churches they visited, and spent a lot of time with church members in their homes. "We drew a crowd," say Laura Irwin, a social work major at PUC and one of two student leaders. "Foreigners aren't common in the villages we were in. People would pack into the church to find out what was going on. The people were incredibly friendly and hospitable."

According to Samir Berbawy, the president of the Egypt Field of Seventh-day Adventists, the most important part of the trip was the personal interaction PUC students had with church members. "They infused some life into the churches they visited," Berbawy says of the PUC group. "They gave the local members a feeling of pride and belonging."

The PUC students felt the benefits of personal interaction as well. "We didn't speak the same language most of the time, but being with the kids and seeing their excitement was incredible," Irwin says.

Berbawy says the Egypt Field struggles with having enough trained pastors and keeping their young people in the country. They also lack funds to renovate numerous dilapidated buildings throughout the field.

"Egypt is a great unplowed field for God," Berbawy explains. "The people are hungry for the Word, and for people who can share the true loving and serving spirit of Jesus. Keep the groups coming." The short-term mission trip to Egypt fed several churches' greatest needs, and Berbawy is thankful for that: "Our people truly felt that they are a part of a big, loving, alive family."

PUC students and faculty organize a short-term mission trip every spring break. In past years, they have gone to Russia and Peru.