Fulbright Scholar Returns to PUC
Morgan Chinnock, April 26, 2007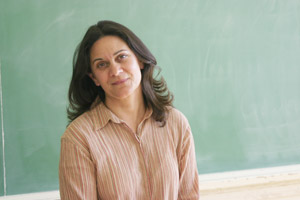 Victoria Mukerji, Ph.D., returned to Pacific Union College this spring after teaching in India for six months as part of the Fulbright Scholar Program.

Before coming to teach at PUC nine years ago, Mukerji spent almost twenty years doing fieldwork as an anthropologist in India. This experience led her to apply for a Fulbright grant to return to India and teach at Goa University in the city of Panjim. She was curious to experience the culture in Goa, which is an ex-Portuguese colony and a unique area of India. "It was time to fly the coop for a while," says Mukerji, who is a professor of visual arts and communication at PUC. "You can't call yourself an anthropologist and stay in Angwin your whole life."

Mukerji wanted to develop a media and culture curriculum for Goa University. However, when she arrived, she found that the university did not have the funding to accomplish this goal so she took on a teaching position in the sociology department. She also sat on committees for several thesis projects and conducted workshops in documentary and media.

She believes that the most valuable part of her time in Goa was the perspective she gained. "The U.S. is too insular," Mukerji says. "It was important to leave my comfort zone as an American and Christian." While the experience was valuable for her as an anthropologist, Mukerji finds her time away necessary on another level: "Tolerance and understanding are crucial to any religion," she says.

During her previous anthropology work in India, Mukerji tried to blend in and not allow her American background to disrupt the culture she was studying. On this project, however, she says she was conscious that, coming from an American program, she was an ambassador. This created a different dynamic than her previous experiences.

Mukerji says having a Fulbright scholar reflects well on PUC because it proves we are in this world doing "intellectual outreach." She also recognizes that sending a Fulbright scholar away is a team effort. Mukerji's colleagues had to work more to cover her classes, and she says she felt great support from PUC faculty. "I'm grateful to the college for letting me go," she says.

The U.S. Fulbright Scholar Program provides funds for the exchange of scholars among foreign countries. Scholars may receive grants for research or teaching. PUC has had one other Fulbright scholar, Eric Anderson, who taught at Ionian University in Greece in 1992.