Week of Prayer Connects Students
Brittany Fredeen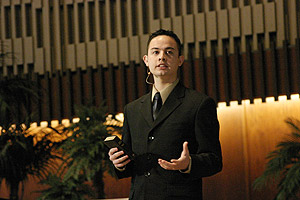 Email
| Font:
- / +
PUC students brought their life experiences before peers during student week of prayer. The third week of spring quarter featured nine students who spoke about the six different spiritual disciplines, inspired by Richard Foster's book, Streams of Living Water: Celebrating the Great Traditions of Christian Faith. Student speakers related stories from their own lives to the book and challenged their friends to use their gifts and talents for God.

Students Jordin Montgomery and Martin Surridge started the week out strong. They reminded students that others struggle for freedom and then told students how they can make a difference. Jordin and Martin's conviction extended into Nicole Wilson and Krita Brieno's talks on Tuesday. Both Nicole and Krista encouraged students to accept their talents. Nicole said, "Embrace those gifts God has put in your heart and do something about them—take action."

On Wednesday morning, Solomon Mendoza enthusiastically shared with students how important it is to give your heart to Christ. He said, "I was excited about this topic because it is the most profound study—God becoming a man." He talked with students about letting go of their preconceived ideas about their lives and not to settle for a cottage when God is planning a palace.

Malcolm Douglas and Lizeth Hernandez changed the tone of the week on Thursday. They reminded students to share God's word. Lizeth said, "You have something that people need—you have that message that changes people, a message that transforms—what are you going to do with that message?"

Miljoy Gallego and David Lee prepared students for the Sabbath by conveying to students that knowing the word means very little without leading a contemplative life. Both speakers shared how Christ has worked in their lives and focused on the incredible gift God gave us of direct communication with Him.

Sierra Szutz and Cheryl Christopherson summed up the week by speaking about the holiness of God. Sierra spoke for church on Sabbath and shared how her love of art and the context of space brought her to understand God more intimately. God is the past, present and future. She said, "God is not a space-filling noun, but a time-filling verb." She added, "It is okay that you do not understand me in time because I come to you in Jesus."

The Sabbath evening meeting was reverent and peaceful. Students relaxed to music that spoke of giving everything to Christ, and when Cheryl Christopherson spoke, students listened with rapt attention. She focused on the importance of seeking support in our lives and the need for acceptance. She told students that seeking truth is important but then they need to seek support for the decisions they make.

PUC Chaplain Roy Ice feels that one of the reasons students remain more focused and attentive during student week of prayer is because they are hearing from fellow students. "I am happy about this week," Ice said. "Focusing on six spiritual disciplines from a book, kept the theme focused and student speakers made the week special—students always respond better to their peers."

Note: This is an archived article and does not necessarily represent current issues at Pacific Union College.