Students & Staff Serve in Mississippi, Louisiana and Peru
Christopher Togami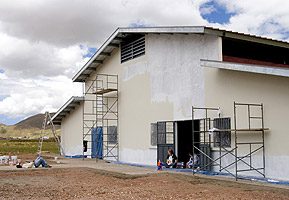 Email
| Font:
- / +
Imagine living in a 25-foot trailer, with knowledge that at the end of the year, you'll have to move out and somehow find a job. Citizens of Waveland, Mississippi have been surviving like this for the past seven months. Since Hurricane Katrina wreaked havoc on the Gulf Coast last year, 75 percent of the businesses in Waveland, which is located about 30 minutes from New Orleans, have remained closed, and the lingering residents possess little hope for the future.

Youth pastor Jon Cicle from the Pacific Union College Church and a group of 16 volunteers journeyed to New Orleans and Waveland during spring break to take part in continued efforts to get the Gulf states back on track. PUC student Jaylene Chung and her parents provided the crew with a nice surprise by unexpectedly joining up with them in Waveland. While most experts are estimating that clearing the devastation and rebuilding will take at least three to five years, the group of PUC students, high school students, and sponsors did their best to make a difference in the lives of some grateful families.

From removing broken toilets and appliances to clearing debris washed in from massive flooding, the group worked tirelessly to gut several houses and apartments in both New Orleans and Waveland. Armed with protective breathing masks and rolls of duct tape, PUC students Zach Gore, Danny Hopgood and Ryan Veness worked on sealing refrigerators for removal by FEMA trucks. Amazingly, some of the refrigerators hadn't been opened since the hurricane struck in late August.

"It took a lot of determination and hard work," says Pastor Cicle. But he adds, "The students who participated had a clear sense of accomplishment. We were performing tangible tasks that had a real impact on people's lives."

Another group from PUC headed even farther south for spring break. Not many people can say they have been to an elevation of 12,000 feet, let alone painting a school while laboring to breathe. But the PUC group of 48 students and staff spent a week in Peru near the highest lake in the world, painting an elementary school, giving Bible studies at a boys orphanage, and offering a free medical clinic to local residents. Members of the group also gathered enough of their own money to buy new soccer shoes and jerseys for the boys at the orphanage, and to provide a year's worth of schooling for two children who couldn't afford the cost of education.

In addition to the work that the group put in on the main projects, they also participated in several worships and church services, leading out in singing and even taking on the responsibility of giving each Sabbath's sermon. One of the churches they attended was the recently constructed church on Lake Titicaca. While it may be small in size and membership, an excited spirit abounds in its cozy confines, and those who attend find it hard to leave.

On Thursday morning, the group was treated to a special performance by the church youth. Following a morning of singing and praise, the children presented all 48 members of the mission trip with small, hand-made gifts as a token of their appreciation. Jean Aldinger, a senior communication major, said that the event was one of the most touching she had ever experienced. "It's amazing how people with so little can give you so much."

Note: This is an archived article and does not necessarily represent current issues at Pacific Union College.