PUC Student Represents the U.S. on Winning Basketball Team
Daneen Akers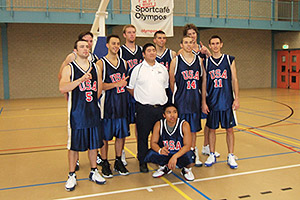 Email
| Font:
- / +
Dustin Comm has always enjoyed representing PUC on the basketball court, but he especially enjoyed the opportunity to represent his country in a recent international college basketball tournament.

Comm, a senior theology and film and television major, just returned from the Netherlands and Belgium where he and nine other athletes represented the United States in an international competition organized by USA Athletics International (USAAI), an organization that plans international competitions in 14 countries to provide sports opportunities and cultural experiences for college athletes.

Besides the fun of traveling to Europe, Comm and his teammates came home victors. The U.S. team won first place in a four-day competition where they played against 30 other teams representing several European countries. To Comm, being able to win in an international setting when he was wearing his country's colors was especially satisfying. "It was a really big honor to be invited," Comm said. "Having 'USA' on my jersey really made me proud."

The nine members and coach of the U.S. team had very little time to practice and get to know each other's strengths before hitting the courts in Amsterdam. In addition to learning about new teammates, they also had to learn to play by European rules. "It was a little challenging," Comm said, who played point guard and shooting guard for the team. "There are a lot of little differences to adjust to, and we only had one day to practice together before the tournament began. We ended up doing well and pulling together as a team though."

Comm's success on the basketball court at home playing for PUC is what got him noticed by USAAI's scouts. Scott Blunt, the PUC men's basketball coach, says that Dustin's recognition was well deserved. Dustin led the league of the National Association of Intercollegiate Athletics that PUC belongs to in scoring and was second in assists during the 2004-05 school year. "Dustin definitely deserves to be on a select team," Blunt said. "He's a very hard worker and is a leader both on and off the court."

Getting the chance to play with athletes from all over Europe helped Comm affirm why he feels sports can be such an important tool. Comm has been playing basketball since he was 18 months old, and finds that a good sports game can go a long way to promote understanding and build unity in a community. "When you play sports, everyone is on the same level," Comm said. "It's one place that is uninhibited by race, class or anything. People from all sorts of different countries played on the All-Star team of this tournament and they didn't even know what country everyone was from. There's something about putting on the same color jersey that makes you a team. It doesn't matter where you're from, you're together."

The tournament also gave Comm a chance to witness to the other athletes. He made arrangements with the coach to not play during the Sabbath hours. Even though that meant he sat out for five games, Comm says it wasn't an issue at all. The other athletes respected his request. "Since I've always played for Adventist schools, this was really the first time this situation had come up for me," Comm said. "But it was fine. The coach and the players were all understanding."

This school year Dustin actually decided not to play on PUC's team so he could give enough attention to his other commitments: He started a regular PUC podcast, PUC Radio, and worked as an assistant chaplain (not to mention getting engaged). But he's looking forward to playing on the team again next year for the two quarters he will still be finishing up at PUC. "Some athletes would be worried about after taking a year off," Blunt said. "But not Dustin. It will be good to have him on the team again next year."

Note: This is an archived article and does not necessarily represent current issues at Pacific Union College.