KidzReach: A Weekly Gift
Lainey S. Cronk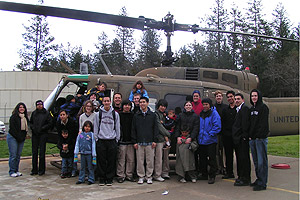 Email
| Font:
- / +
The early birds are still singing across campus on a Sabbath morning when a group of college students forsake their cherished slumber and head down the hill. They know there's a group of kids counting on them—a group of kids with rough lives, underprivileged backgrounds, and a distinct need for love.

It all started last year, when a request came in for volunteers to attend church with some children from unstable families or challenging backgrounds. A few PUC students started driving down to the Yountville Seventh-day Adventist Church to help out with the kids that Harley Roth and other members of Jail Prison Program Ministries (JPPM) brought to the church.

Before long, the interaction had extended to include a few more activities such as hiking or taking the kids to the beach. "We dreamed of becoming a campus ministry," says senior chemistry major Karen Ong.

With some dedication and planning—and plenty of support from other students and college and community resources—their dream reached fulfillment at the end of last year and is now a full-fledged ministry called KidzReach.

Under the direction of Luke and Maria Hamilton (this year's leaders) and Karen Ong (last year's leader), KidzReach takes 15 to 20 PUC students to spend every Sabbath—all day—with "their kids." They go to church with the children and their families, go caving, take tours of the Angwin Airport or the volunteer fire department, eat together, play, and just give the kids a Sabbath full of fun and mentoring.

The KidzReach leaders have made an effort to involve younger college students in the project. Many of the ministries tend to focus on upperclassmen, but KidzReach hopes to get students involved in ministry at the start of their college experience—and the plan has worked: Next year's leaders are all freshmen and sophomores this year. "We're excited that new students are getting involved and getting into leadership positions," Ong says.

One such student is Tom Nguyen, whose friends told him about KidzReach earlier this year. He wasn't so sure about it all at first. "I felt so overwhelmed by the kids when I first met them," he admits. But he stuck with it, convinced that this was what God wanted him to do. "Then I got to know the kids more personally," he recounts. "I know each of them, their situations, their difficulties."

Nguyen made friends with a little boy named Brandon. One cold day at a Napa park, Nguyen gave his jacket to Brandon to wear. "By looking at his eyes, I could see that he understood that I love him," Nguyen says. After that, Nguyen bought Brandon a new jacket of his own.

"I know God wants these kids to experience how much he loves them," Nguyen says. "The only way the kids can experience God's love is from us. They need to enjoy their childhood and know that no matter how hard life is, no matter what this society may think about them, God will always love them and take care of them."

Such stories are no great surprise in the world of ministries. "I believe that campus ministries are the BEST thing about PUC," says Maria Hamilton. "It doesn't matter where you see a need—if a PUC student wants to reach out, they will have the support of the Chaplain and ministry staff at PUC."

This particular campus ministry has already seen the impact of their service. "We have gotten to see the kids grow not just physically but socially and emotionally, overcoming fears from their abusive pasts and building stable relationships with the college students," says Hamilton. "For many of our kids, this ministry and the college students are the only stable relationship they have."

Hamilton has also found that projects like KidzReach help to break down barriers and prejudices. "Having the opportunity to see these kids clean themselves up inside and out because somebody loved them unconditionally will sell anybody on the need for a church that is a hospital for sinners and not a club for the righteous," she says.

An entire day spent with 15 to 30 kids ranging in age from 1 to 18 takes a lot of energy. But it's more than worth it for this committed team. "Our lives are forever changed from having been part of this ministry," says Hamilton. "I believe that God is going to take ministries like KidzReach wherever the college students who have fallen in love with the KidzReach kids go. We have so much, and there is a huge need for this type of ministry no matter where you go."

Note: This is an archived article and does not necessarily represent current issues at Pacific Union College.