Film Festival Makes a Powerful Impact
Brittany Fredeen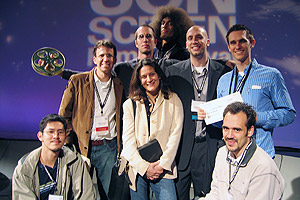 Email
| Font:
- / +
The SonScreen Film Festival, a screening and showcase event for filmmakers, took place at the end of April. Created by the North American Division of the Seventh-day Adventist church, this annual event highlights Adventist and Christian young people and adult professionals in media and film. This project began in 2002 with the goal of nurturing Christian filmmakers in their craft, career development and their spiritual life.

For the first time the film festival took place in Simi Valley, California home of the Adventist Media Center. Stephen Eyer, visual arts instructor at PUC and a member of the executive planning committee for SonScreen, attended the festival with six PUC students and three other visual arts professors. Eyer felt that exposing students to the materials already in place was a good idea. "It is good for students to see what the church has and realize there is a place where they can make powerful stories," he said.

Attendees had the opportunity to meet filmmakers and people in the professional world. When participants were not watching film screenings they could attend workshops for directing, editing, producing, and screenwriting. Film student Tim de la Torre thought the weekend was useful for making connections. "The most important thing we walked away with was meeting people."

The weekend featured Hollywood Filmmaker Christopher Erskin as keynote speaker. Erskin spoke about the challenges of filmmaking in Hollywood and still maintaining Christian values. He focused on how he secured the first "Sabbath clause" at 20th Century Fox while making his first film Johnson Family Vacation.

SonScreen accepts productions from students and industry professionals that display qualities of social awareness, outreach and creative entertainment. PUC had a momentous year with Tim de la Torre's film, Wanted: God's Character, winning first place for best drama and Travis Gleason's public service announcement (PSA), Child on the Internet winning for best PSA. Several PUC student films won special jury prizes, including Brian Bazemore's documentary, Everyday People, Charles Johnson's comedy, Adventist Drug Culture, and Jose Torres' public service announcement, Price Check.

This festival showed the talent and dedication of Christian filmmakers. "The planners have a passion for the film festival and they help connect us to people in the industry—it's a really good thing they're doing." De la Torre said. "It encourages us and makes us want to do better."

Note: This is an archived article and does not necessarily represent current issues at Pacific Union College.