Fiesta in Angwin
Lainey S. Cronk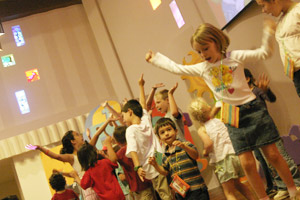 Email
| Font:
- / +
Summertime finds many campus people gone on vacations, classes abroad, workshops, and other adventures; but there were several faculty, staff, and students still around to join the children of the community for the annual vacation Bible school program at the Pacific Union College Church.

Robert Ordoñez, a PUC professor of computer science, was a VBS taskforce worker in college but hadn't been involved in a VBS program for over a decade. So when he was asked to help with this summer's "Fiesta" program, he jumped at the chance. "It's been really great to see how enthusiastic the kids are about VBS," he says. "And it's not just the younger ones—it's awesome to see the older kids, all the way up to high school and even college, getting involved!"

Ordoñez was a leader for the general all-group sessions at the beginning and end of each day. These sessions, like the stations the children rotated through in between, provided simple, powerful messages about Jesus through music, skits, daily challenges, and all kinds of active, interactive adventures.

One day when Ordoñez was acting as shuttle service to and from VBS for one of the children, he discovered what a distinct and positive change VBS was in that child's summer life. "When I asked what the rest of the day would hold for this 5th grader, he said he'd watch TV and play video games, but he'd be looking forward to VBS tomorrow. He also told me he's really enjoying everything he gets to do at VBS—and I got to see a tiny little bit of the difference VBS makes, even right here in 'already-Adventist' Angwin."

Charo Caballero Chambers, PUC professor of modern languages, has helped with the VBS snacks for several summers. She sums up the dual blessing of the program well when she says, "It reinforces our love for Jesus; and for the new kids, we have the opportunity to plant the love of Jesus in their tender hearts."

Note: This is an archived article and does not necessarily represent current issues at Pacific Union College.