Educator of the Year: Victoria Mukerji
Lainey S. Cronk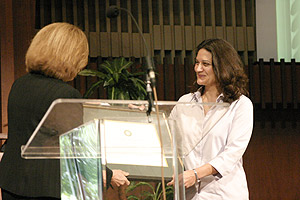 Email
| Font:
- / +
The annual Educator of the Year colloquy is a celebration of real-life teaching. It's an acknowledgement of a campus where teachers' offices are frequented by students stopping by to talk about class topics as well as their own dreams and plans. It's a commemoration of so many lives utterly dedicated to broadening views and bringing true learning. "It's a celebration of the diversity in our faculty and the different ways teachers reach students," said last year's Educator of the Year Aubyn Fulton. "All of us are recognized as teachers when one of us is held up."

This year's Educator of the Year colloquy especially emphasized inter-disciplinary scholarship with the award going to Victoria Mukerji, an associate professor of visual arts who teaches classes for the psychology and social work, communication, and visual arts departments as well as the Honors Program. Mukerji, who graduated from Mills College and received her Ph.D. in anthropology from the University of California, Berkeley, will also be spending a portion of the next school year in India as a Fulbright Scholar.

Several of Mukerji's colleagues presented remarks of appreciation (combined with a little "roasting"). James Chase of the communication department informed the audience about the things that Mukerji is "way too": "She uses way too many big words and is way too smart, and her students are getting way too smart, too. She makes food that's way too good and distracts from conversation. And she creates way too much self esteem in her students when they can say they survived a Mukerji class!"

Fulton summed up the way the campus feels in general about this committed professor when he said, "All of us on this campus are smarter and better off because Dr. Mukerji is part of our community."

Several students also shared their kudos. "You challenged me immensely," junior English major Morgan Vogel told Mukerji. "Yes, you scared me many times—but I also saw a love for people that you have."

Dustin Comm, senior theology and film & television major, said that Mukerji's opinion matters to him. If she doesn't agree with something, he takes it seriously. "The reason why you're my favorite teacher is because you're the only one that can tick me off!" he said. "You inspired me, challenged me to set my sights higher."

Note: This is an archived article and does not necessarily represent current issues at Pacific Union College.