Biblical Scholar Speaks for the 2006 Longo Lecture
Daneen Akers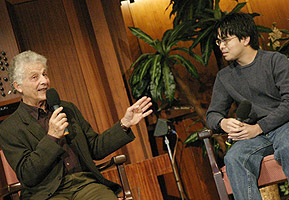 Email
| Font:
- / +
PUC students, faculty and staff were treated to the scholarly insights of Dr. Robert Alter, a professor of Hebrew and comparative literature at the University of California at Berkeley, for this year's Longo Lecture. Alter has written 22 books (with more on the way) and has won prizes for his translations of scripture and for his books on the art of Biblical narrative and poetry.

Alter's talk, "An Agenda for the Literary Study of the Bible," focused on why he believes it is important to pay attention to the literary techniques of the ancient Hebrew writers in both scholarly and personal Bible study. Alter feels that paying attention to the language, rhythms, literary allusions and patterns in the text reveals the religious motivations of the writers. "Words are the instruments through which writers shape their vision of the world," Alter said. "When you pay attention to the literary articulation, you see what's going on in terms of the author's religious vision."

Alter didn't start out with the intention of becoming a Bible translator, but 25 years ago when he accepted an assignment to write a scholarly article based on the Hebrew scriptures, he discovered all of the translations had problems. In particular, he finds the tendency of translation committees to "clarify" the text problematic and even goes so far as to call it "inadvertent heresy." He points out that the Hebrew writers were often deliberately ambiguous. "Most great literary works are full of ambiguity. That isn't accidental," Alter said. "Writers want to convey more meaning than the words can hold, so the Bible actually cultivates certain ambiguities and literary allusions that get lost sometimes when you try too hard to clarify."

As an example of an attempt to clarify gone wrong, Alter uses Genesis 34:10, the moment in the Jacob and Esau story where the brothers have met after many years of separation. Jacob has sent Esau a valuable gift of hundreds of goats, sheep, camels, cows and donkeys ahead of the main party. When they meet, Esau asks what all the animals are for. In most modern translations, Jacob answers, "If I have found favor in your eyes, accept this gift from me." However, Alter notes that the Hebrew word translated here as "gift" is berakhah, which actually means blessing, so in his Genesis translation, he translates this line from Jacob as "take my blessing."

To Alter, this represents an all too common attempt by many translators to clarify at the expense of the Hebrew author's intentional literary techniques. "The translators see all these animals that Jacob is giving to Esau and say, 'Well, this isn't a blessing, that doesn't make sense—it's a gift. We need to clarify that.'" By clarifying, Alter says most translations miss a beautiful opportunity for an allusion to the blessing that Jacob stole from Esau so many years before. "By using the word 'blessing' we see that a sort of restitution is happening. Jacob is trying to recognize his wrong through this word choice. If you try to clarify this exchange, you lose that beautiful allusion," Alter said.

This close attention to detail and the intent of the Hebrew writers is what makes reading Alter's translations and commentary so stimulating for Craig Church, a freshman who read Alter's David book in an honors class and met Alter at a special honors class where Alter answered questions from students. "When you read his translation—and especially his footnotes—it really allows you to look at these Bible stories with a different perspective," Church said. "He doesn't dilute the text. He respects the intelligence of the reader and lets us grapple with the ambiguities that are there. It was great to get to meet him after reading his work."

One of the reasons why Alter was chosen to speak for the Longo series was because several PUC faculty use Alter's books as textbooks for class. Nancy LeCourt is one of them. Besides enjoying Alter's books in class with students, she says reading his translations and commentary has changed her personal Bible study. "He's given me a whole new way of appreciating and loving the Bible," she said.

Even though he has spent decades studying the Hebrew Bible, Alter says he doesn't tire of the stories. He find the narratives and poetry layered with meaning and often surprising, even after years of reading them closely. "These are stories that I've been reading since I was quite young," Alter said. "What repeatedly gives me satisfaction is to read a story I've read so many times before and suddenly have an 'ah-ha' moment when I see something going on that I hadn't seen before. I don't get tired of the Bible. It's so dense—and I mean that in a good way."

He encouraged his PUC audience to pay attention to the details when reading the Bible, notice the puns, hear the alliteration, and pause to examine the word choice. "Sometimes what the writers wanted to tell us is more surprising, complex and multifaceted than we had ever imagined," he said.

Alter's visit to PUC is due to the generosity of Dr. Lawrence Longo, who, in 1992, established an endowment at PUC with the idea of creating a lectureship on topics relating to religion, society and learning. Dr. Longo is one of the world's most respected specialists in developmental physiology. Dr. Longo began the lecture series in honor of his parents, Frank and Florine Longo, who claimed Angwin to be a "suburb of heaven."

Note: This is an archived article and does not necessarily represent current issues at Pacific Union College.