Back to School in Style
Julie Z. Lee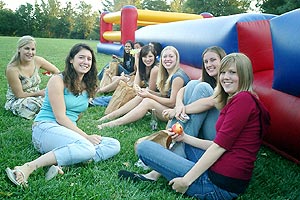 Email
| Font:
- / +
School is back and the Pacific Union College Student Association kicked off the academic year with an al fresco fiesta, complete with a live mariachi band. Hundreds of students, faculty, and staff gathered at the track and field on Monday evening, September 25, to socialize and dine picnic-style on the grass. The annual event is a farewell to the summer, an opportunity for people to reconnect, and a celebration for the start of the fall quarter.

"I think [the All School Party] is a good segue into the year. It starts everyone off on a good note and in a friendly atmosphere. It shows that PUC likes to have fun," said Kristina Reiber, a sophomore English major.

The majority of the college's student body returned to campus over the weekend in preparation for classes, which began on Tuesday, September 26. The incoming freshmen, however, started moving into the residence halls last Thursday. In another campus tradition called Porter Power, campus volunteers helped the new students get settled by carrying boxes and suitcases to their rooms.

"I think it's really important to make the students feel welcome," says Linda Cochran, assistant professor of nursing. She has been helping with Porter Power for years. "I know the parents appreciate it too. It gives you an opportunity to meet new students and say hi. Then if you get them as students or as an advisee, maybe they'll remember the extra help you gave them. It's all about the relationships and this is where it starts—on their first day on campus."

Note: This is an archived article and does not necessarily represent current issues at Pacific Union College.