Award-Winning Gamemakers Credit Success to PUC Education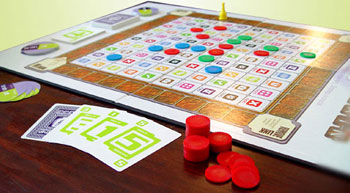 Email
| Font:
- / +
Following his graduation from PUC in 1993 with a bachelor's degree in business administration, Scot Blackburn decided to test his skills in the business world. His efforts paid off, and the result, is an award-winning strategy-meets-trivia board game he named Brain Chain. Brain Chain was co-created with current PUC Campus Chaplain Roy Ice, Kris Harter (Columbia Union graduate) and Brigit Warner (Southwestern graduate and Santa Rosa resident). Recently, Games Magazine honored Brain Chain as one of the 100 best board games.

Blackburn credits his PUC education with a large part of this success. "Creating a game was a lot of fun, and Pacific Union gave me the tools I needed to succeed and the confidence to use them," say Blackburn. He specifically credits professors Kopitzke, Voth, Neergaard, Hardcastle and Toledo with not only his understanding of the theoretical and practical business world, but instilling in him the confidence and drive to be an entrepreneur. "Although PUC does not yet have the name recognition as Harvard or Wharton, I was pleasantly surprised with the instant respect I, as a PUC graduate, was accorded within the business world."

Blackburn also credits current PUC Campus Chaplain Roy Ice and other Seventh-Day Adventist University graduates with Brain Chain's success. Brain Chain's designers and editors collectively brought over fifty years of Adventist education to bear on this project," Blackburn says. In particular, Ice tirelessly created and modified the graphic designs on the box, board, cards and Brain Chain's website located at www.BrainChainGames.com. Blackburn, Harter and Warner conceptualized the game and researched the trivia question; Ice brought it to life.

When asked about the single most important question there is, Blackburn replied, "Unfortunately, you won't find that in Brain Chain. The most important question we need to answer is: How do I form a personal relationship with the Creator?"

Although you won't find the answer to that question in the game's eight trivia categories or 3,200 questions, Blackburn says with a smile, "you can easily find the answer on the Pacific Union campus. If you are not sure where to look . . . simply ask a faculty member . . . that is why they teach at PUC instead of Wharton or Harvard."

Note: This is an archived article and does not necessarily represent current issues at Pacific Union College.