A Spontaneous Gift: Students Send $8,000 to Nicaragua
Lainey S. Cronk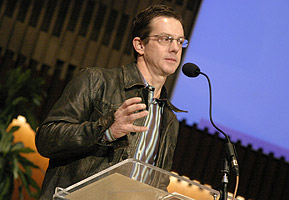 Email
| Font:
- / +
Jake Scheideman, owner of St. Helena Cyclery and an active member of the St. Helena Rotary Club, is eight years into a project that has come to include many Napa Valley residents and now, in a spontaneous contribution of almost $8,000, the students of Pacific Union College as well.

During a February 16 presentation to an all-school colloquy at his alma mater, Pacific Union College, Scheideman told his story of how a bicycle store owner in the Napa Valley came to be building houses in Nicaragua.

After graduating with a business degree in 1990, Scheideman took a bike trip through Central America. He fell ill in the small village of Empalme de Boaca in Nicaragua and was nursed back to health by a local family. Promising to return someday, Scheideman went home to start his career.

But it wasn't until Hurricane Mitch ravaged Honduras and Nicaragua eight years later that Scheideman found himself compelled to look up his old friends in Nicaragua. He went back to visit and soon was immersed in helping the village of Empalme de Boaca. He started with a plan for a simple baseball field, but the baseball field became a full baseball stadium—"a field of dreams," and then Scheideman went on to tackle the question of housing. "I had never wanted to do housing. I don't know anything about building a house; but it is the most obvious need when you look around," Scheideman said.

The St. Helena Rotary Club, which is dedicated to supporting local programs for youth and international service projects, has taken on the Empalme de Boaca venture, which has expanded to a $500,000 housing project primarily supported by Napa Valley residents but including sponsors from all over the country and even some international sponsors. The project calls for 65 homes to be built in what the villagers have dubbed "St. Helenacita"—Little St. Helena. Twenty homes are finished so far, and Scheideman goes to Nicaragua at least once every other month to keep working on the project and also organizes opportunities for sponsors to visit and help with construction.

Scheideman never really expected to become involved in such a massive project, but his philosophy is simple. "If you see a need, fill it. If we each did that, it would make such a difference."

After presenting his story to the PUC students, faculty and staff, the program's conclusion took an unexpected turn. As college president Richard Osborn thanked Scheideman for his work, PUC Church senior pastor Tim Mitchell took the mic and said, "I want to strike while the iron is hot." Mitchell pledged to donate the income he receives from a class he teaches towards funding one of the houses in St. Helenacita, and asked students and faculty to fill out pledge cards as well, even if they could only offer $5 toward the project.

Mitchell, who finds that giving financially to worthwhile projects is an important aspect of his own life, believes that most people want to be involved if given the opportunity. "People really want to give, and if there's a leader to step up and take the initiative, people will be very generous," Mitchell said.

Students, faculty, and staff followed his lead, and by the end of the service, $7,861 in pledges and donations had been collected. Most of the donations were in the $10-50 range. "I saw it as a way of positively contributing to one of the most basic needs," said PUC senior Jean Aldinger, one of the students who contributed. "My parents always told me I would have a roof over my head, and it's hard to see parents who can't provide that for their children."

Scheideman was taken completely by surprise by the spontaneous collection. "I'm beyond words," said Scheideman. "I didn't come expecting a dime. It's just totally humbling to see something like today happen."

Note: This is an archived article and does not necessarily represent current issues at Pacific Union College.