2006 Arizona Teacher of the Year
Christopher Togami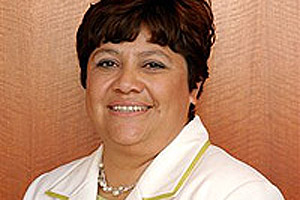 Email
| Font:
- / +
When the 2006 Arizona Teacher of the Year, Lucy Popson met President George W. Bush at the White House in March, she greeted him with the same enthusiasm and excitement that she shows to her third graders each day at Walter Douglas Elementary in Tucson, Arizona. Not one to miss an opportunity, Popson informed the president in a characteristically bubbly tone that her mom was his biggest fan, prompting President Bush to present Popson with a presidential pin for her mother. Popson, part of a 51 member contingent of teachers representing the 50 states and Washington D.C., was being honored at the nation's capital for her excellence in education.

Popson's journey to the White House began twelve years ago when she graduated from Pacific Union College with a bachelor's degree in liberal studies and a master's degree in education. She remembers her days in class and says, "They were tough! As a student I was expected to meet high academic standards. I believe that everybody who has ever graduated from PUC deserves a medal!"

The third grade classroom at Walter Douglas Elementary has been Popson's home for the past eleven years. Her energy-packed style of teaching has endeared her to the hundreds of students she has influenced over the years, leaving many of those young scholars with a wish that they had not passed on to the next grade, but instead, remained in the nurturing confines of Popson's dynamic classroom. A key to Popson's success lies her philosophy that teachers should "laugh with [their] students and show them that there is always a time to work and learn, and a time to enjoy friendships."

In spite of receiving amazing national recognition, Popson doesn't see her journey as complete. She will teach as she always has, continually working on achieving her personal objective of helping her students to set their own goals and achieve those goals through fully exercising individual potential. Her humility hasn't been affected either, and she says that "being the 2006 Arizona Teacher of the year doesn't mean that I am the best teacher in the state, but that I represent all the hard working teachers who I know pour their hearts and souls into their classrooms on a daily basis."

Note: This is an archived article and does not necessarily represent current issues at Pacific Union College.