The Holiday Halls
Lainey S. Cronk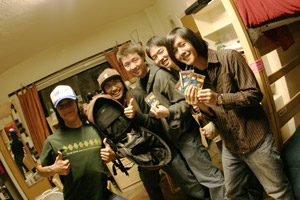 Sunday evening, December 3, brought an influx of cookies, guests, and music to the women's residence halls at the annual Christmas open house. Swags and baubles were rampant throughout the dorms, as girls opened their spiffed-up abodes for friends and strangers to survey.

The women's dorm open house is traditionally one of the most festive occasions of the season on the PUC campus, with resplendent parlors and foyers and many girls banding together to decorate their halls. Hot drinks and decadent treats are provided by each dorm, and all visitors are welcome to mingle and ramble through the halls. The gentlemen of the campus are particularly appreciative of the opportunity to observe the ladies' excellent decorating techniques, and to enjoy their company in such a cheery holiday setting.
Note: This is an archived article and does not necessarily represent current issues at Pacific Union College.