Summer Classes: Intensity and Informality
Lainey S. Cronk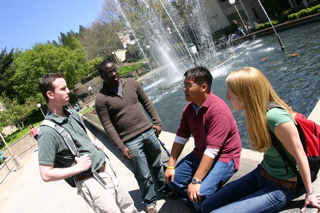 Email
| Font:
- / +
During the sunny green days of summer, the campus kicks off its shoes and falls into a comfortable doze. There's no massive noon hubbub in the cafeteria; you're just as likely to encounter maintenance workers as students; and there's no sudden flood of students hurrying up and down stairs every hour.

But all is not asleep and empty. Here and there in library chairs and dorm rooms, students still read thick books and stare at computer screens. Faculty and staff come and go in their offices. And in the quiet buildings, small groups of students meet daily for their general psychology class or their physics lab. With about 70 classes offered (including some at the Albion Field Station, the Honors Summer Abroad, and online courses), there are plenty of students—and teachers—still hard at the books.

The tone of these classes is noticeably different from regular session classes. For one thing, the classes tend to be small. Amanda Rusch is taking History of World Civilizations along with six other students—but, she says, only 3 come to class every day! The others do their reading outside of class and come for the tests. "So it's much more personal, just because it's so small," Rusch explains. "During breaks most of us don't go anywhere, so we talk to Dr. Glaim and get more acquainted." And though it is a lecture class, the small size makes it perfectly comfortable to throw in a little discussion—for instance, Rusch recounts, a student from Turkey has provided some personal insights into the class material on Islam.

Student Aimee Veness found a similar tone among the nine students in her Adventist history class—although hers had the added distinction of consisting largely of teachers returning to complete their Adventist credentials. This two-week class was pretty intense, with three to four hours of class daily, followed by a heavy load of reading. "I'm used to taking that many hours of class," Aimee admits, "but not all on one subject!" But she enjoyed the relaxed atmosphere. "Instead of everyone rushing out as soon as class was over, people stayed and talked for a while," she recounts. "Mostly to say things like, 'how are we ever going to do all this reading?!'"

Note: This is an archived article and does not necessarily represent current issues at Pacific Union College.