Many Happy (Tax) Returns
Lainey S. Cronk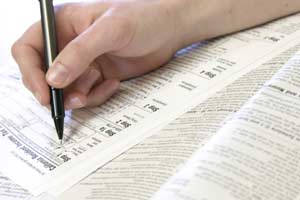 Email
| Font:
- / +
If you had been walking through the Napa Valley Adventist Retirement Estates last week, you might have encountered a strange mix of college students and white-haired folk all in the depths of a very exciting activity: filling out tax returns.

A number of years ago, business administration professor Henry Kopitzke started a service learning opportunity with his "Taxation for Individuals" students. They trooped down to the Retirement Estates in Yountville and helped the residents with their tax returns. The next year, Kopitzke was contacted by Veterans Services, and he added the Yountville Veterans Home to his project.

Kopitzke's students are given the option of doing either an all-day tax return lab for the retirees or writing a short paper. Every single student has chosen the lab. "I've had some students who were real cynics about it beforehand," says Kopitzke. "But when they're done, they're completely changed!" It's a very personal project, he explains, because the students are meeting these individuals and then sitting down with them and going through the filing process. In the end, they hand their "client" a completed return. Koptizke says, "I tell my students, 'these people are going to sign the return you do for them and send it to the government—this is it!'"

PUC business major Justin Smith was enthusiastic about the project. "Any time you can do hands-on experience for a class, you learn so much more than when you're just doing bookwork," he says. "This was one of the best experiences."

In addition to benefiting the students, however, this project also served the community. Smith describes how appreciative the residents were, especially at the Retirement Estates, where the PUC students are the only people who provide tax return assistance. Residents even expressed their gratitude by baking bread and bringing cake for the students. Business major Meghan Gainer concludes by saying, "All the people that I talked to really appreciated that we came down to do this for them."

Note: This is an archived article and does not necessarily represent current issues at Pacific Union College.