Bring out the Brass
Lainey S. Cronk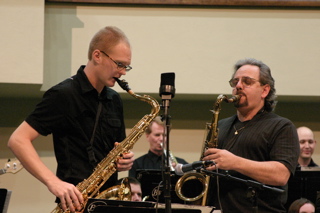 Stress, senioritis and spring fever characterize the third academic quarter. Fortunately, PUC's wind ensemble and jazz band made a point of contributing an infectious dose of swing and jollity to the mix this spring.

May brought a Symphonic Wind Ensemble concert featuring "Godzilla Eats Las Vegas" (complete with accompanying visuals), a stunning "Rhapsody in Blue" starring Kristen La Madrid on piano, and "Carnival of Venice" with Alex Caceres on trumpet.

Then, despite looming finals, the Jazz Band's June concert attracted a vociferously appreciative audience to Paulin Hall. The relatively young band has quickly become highly popular—and rightly so. With an easy-going atmosphere, big band tunes that keep listeners feeling amazingly cheery long after the concert's over, and awe-inspiringly talented musicians, the Jazz Band is something no one wants to miss. The superb contributions of guest saxophonist Guido Fazio added yet another layer of appeal to the band's June 5 concert. An acclaimed San Francisco musician, Fazio is an old classmate of band director Kenneth Narducci and is also the current saxophone teacher of Darren Wheeler, PUC student and Jazz Band saxophonist.

As always, the crowd demanded "one more!" at the end of the concert—and were rewarded with one last foot-tapping classic that did its best to send students on their way to a successful exam week.
Note: This is an archived article and does not necessarily represent current issues at Pacific Union College.