Arminee Chahbazian: Sculpture and Encaustics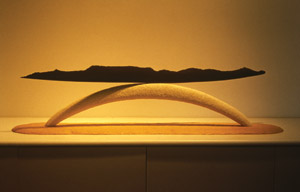 "Sculpture and Encaustics," an exhibit featuring the work of artist Arminée Chahbazian, is currently on display in Pacific Union College's Rasmussen Art Gallery. The show will be open through February 3. Chahbazian, a local artist who also showcases her work in San Fransisco, received her MFA in sculpture from the Yale School of Art. Her current exhibit at the Rasmussen Art Gallery includes encaustic paintings and sculptural works. "Encaustics" refers to the method of painting with pigmented bees' wax; and Chahbazian's sculptures are predominantly marble, with some other materials incorporated.
Note: This is an archived article and does not necessarily represent current issues at Pacific Union College.