Angwin Meets Anatevka
Lainey S. Cronk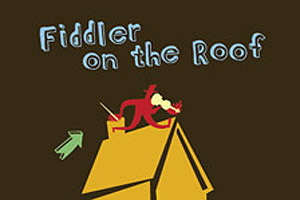 Email
| Font:
- / +
The men grow out their beards; villagers dance in the halls of Paulin; and on the grass by the tennis courts stands Tevye, giving his opening speech to Angwin.

The Fiddler on the Roof has come to the hilltop, and a dedicated cast and crew fill the air with their lines, songs, dances and theatrical enthusiasm as they throw themselves into the Napa Valley Musical Theatre production that will be the first musical produced in the newly remodeled Lincoln Theatre.

If you wander into Paulin Hall some evening, you're likely to encounter a lot of actors (there are over 41 in the musical, all PUC students, faculty or staff) and crew (the artistic and administrative team consists of over 20 people, including professionals from Napa and San Francisco). They may be doing Japanese warm-up exercises, or discussing what's not working in a particular scene, or dancing around in the halls for lack of any other available space.

Some of the actors are no surprise—students who have consistently been front-and-center in PUC's drama and music. "But," says Mei Ann Teo, our English department Resident Artist and Fiddler's director, "look at the majors of these students: graphic design, nursing, business, chemistry...the list goes on. Then look at the faculty and staff who are involved! Of course you'll have your Linda Gill from the English department. But add to that George Hilton (a mathematician and a pastor), Dean Kevin Kibble, CAPE's James Dick (as Motel), Greg Schneider from behavioral science (as Tevye), and Lary Taylor - a business professor. You have student leaders like Stacey Guffey, senators in our marketing team, and two high school students. And we expect them ALL to sing, dance and act."

Moreover, the cast has to do plenty of background work; in addition to learning their lines, they must discover the "back stories" and personalities of their characters. Greg Schneider tells how they went to the grass north of the tennis courts to practice Schneider's two long speeches in the prologue. Teo gave him different scenarios in which to practice; the most memorable, Schneider recounts, was the time she said, "This is Anatevka, and you must leave forever; now deliver your speech."

" I really appreciate that kind of direction," Schneider says, "and have drawn things from that experience to help make those speeches more than just rehearsed lines."

Teo also brought in a Rabbi to talk to the team about the Jewish traditions of marriage and Sabbath. "I wanted to hear the reason behind the actions, so that we wouldn't be copying it blindly," she explains.

Indeed, making the production something truly meaningful and excellent is a long process. "You have all these other things going on," explains Marjorie Bushong (Tzeitel), "and then you go to rehearsal and it's difficult, because in order to act you have to be free." Bushong adds, "You also have to be very vulnerable – which is funny since you're acting a part; but you have to be vulnerable and that can be really hard."

Fortunately, the group is under capable, positive leadership. "Working with Mei Ann is incredible," reflects student Ruth Delgado (a villager), "because she's so open to everybody's ideas. Someone will say, 'Hey Mei Ann, what about this?' and she'll say, 'Okay, let's try it.'"

"It feels very large," Schneider adds. "I'm slowly making my way up the mountain… I'm perhaps a third of the way there. But I've never had a moment when I looked myself in the mirror and said, 'You were stupid to do this!'"

That seems to be the prevailing feeling among the cast and crew, despite an overwhelming amount of time and work they all must pour into this production. "Every one of the production crew who are new to PUC," says Teo, "are AMAZED at the dedication and delightful personalities of our cast. They have all continually expressed how enjoyable it is to work with people on the hill." She adds, "The journey that all of us have taken together has been pretty amazing."

After all, the actors and crew are compelled not only by their love of theater but also by the strength of the Fiddler story. "There are so many levels to this story," says music director Gennevieve Kibble. "No wonder it has such universal appeal!"

"Fiddler is a work of strength, depth, richness," Schneider says. "It's such a wonderful story, such an opportunity to grow in so many ways."

Note: This is an archived article and does not necessarily represent current issues at Pacific Union College.