New Students
There is much to do before classes even start! The resources on this page are here to help you make sure you're ready for the beginning of your first quarter at PUC. Instructions are simple: make sure you do all this stuff. And if you need any help, don't be afraid to ask!
Things To Do
Before You Get Here
You may not be on campus yet, but there are still things you need to do to get ready for college. Use this handy checklist to make sure you've got your bases covered before you get here.
Housing
Enrollment Fee: Before you're able to register for classes or make housing plans, you'll need to pay the $150 enrollment fee. Pay online at puc.edu/enrollmentfee.
Housing Information Form: Along with paying the enrollment fee, all students must fill out this form at puc.edu/housingform. Residence hall students, this is where you can tell us about your hall and roommate preferences so we can make the perfect match.
Off-Campus Housing: If you plan to live off campus, see puc.edu/housing to check eligibility and to fill out the required forms, which you'll need to submit to Student Services.
Academic
Class Registration: If you haven't registered for classes yet, now is the time to put together the perfect schedule! Call Enrollment Services to register for Fall Quarter at 800-862-7080, option 2.
WebAdvisor: Create your WebAdvisor account at accounts.puc.edu. WebAdvisor is the program you'll use to register for classes, check grades, and communicate with your advisor.
Webmail: Create and confirm your PUC e-mail account at webmail.puc.edu. From information about school events to important messages from your professors, this is the account the campus uses to get in touch. Log-in and password are the same as WebAdvisor.
ACT/SAT Scores: If you haven't yet, make sure you take the ACT or SAT test and send your score to PUC. If you don't, you'll be required to take the ACT during orientation.
Etc.
Health Information Form: See your doctor before you get to campus. Download the form at puc.edu/healthservices. Documents can be faxed to 707-965-6243. Contact Health Services at 707-965-6339 or healthservices@puc.edu for more information.
Financial Clearance: Get all your financial paperwork finished up by working with Student Financial Services. Don't wait too long—if this isn't completed by 4:30 p.m. on the second day of class, your registration will be cancelled. Call 800-862-7080, option 1 for more information.
Vehicle Registration: Got wheels? Get them registered to avoid parking tickets. Online vehicle registration is available at puc.edu/publicsafety (you must have a WebAdvisor account). Once you get on campus, stop at Public Safety to pick up your parking sticker.
After You Get Here
You made it to PUC! After you've unloaded your boxes and suitcases, run through this checklist of things you need to do on campus. If you haven't yet finished your list of Things To Do Before You Get Here, you still have some time to check things off the list before classes start on Monday. Hop to it!
ID Card: This 2 by 3 inch piece of plastic will be your ticket to the Dining Commons, library, and bookstore! So make your first stop at PUC the Dining Commons, where you'll take a photo and get your card.
Parking Sticker: You can always recognize a PUC car by a small rectangular sticker in the bottom left-hand corner of the rear window. Avoid parking tickets by picking up your parking sticker at Public Safety during orientation. Your vehicle must first be registered to receive a sticker; go to puc.edu/publicsafety.
Academic Advisor: For the smoothest ride through college, meet with your academic advisor often. If you are a registered freshman but want to make a change in your schedule, you will need to do so through your advisor. If your first-quarter schedule is set and no changes are required, you don't need to meet with your advisor during orientation.
Things To Do
Before-you-get-here and after-you-get-here checklists.
Residence Hall 101
First time away from home? Here are a few tips and crucial pieces of information that will help in a smooth transition from home to residence hall.
General Information
Each residence hall room is fully equipped with the following items:
Twin beds/bunk beds
Closets and dressers
Desks and chairs
Window coverings (except Newton and Grainger)
Carpet (except for portions of Andre Hall and the north wing of Winning Hall)
Two 10/100 MB Ethernet connections. Network card not provided. Wireless Internet is available throughout each residence hall and most academic buidings. See itss.puc.edu for more information.
Each residence hall has the following facilities:
Coin-operated laundry (save those quarters!)
Ironing boards
Kitchens or cooking areas
Lobbies, study rooms
Outdoor bike racks
What to Pack
Can't fit your entire room into the minivan? Put down the packing tape and take a moment to read over our recommended packing list. Once you know the essentials for survival and what's not allowed, you might think twice about hauling your grandma's floral couch up Howell Mountain Road.
On some of these items, you might check in with your roommate so that you don't end up with two microwaves or rugs! For more details on residence life, check out puc.edu/studenthandbook.
Must Haves:
Desk lamp
Bedding, including mattress cover
Wastebasket
Cleaning supplies for the room and bathroom
Small vacuum (not supplied by residence hall)
Telephone (optional)
Iron
Appropriate decorations
Circuit breaker power strip
Computer and network card
Ear buds or headphones
Air-tight food storage containers
Kinda Must Haves:
Microwave
Mini-fridge (four cubic feet or less)
Cell phone (Verizon offers strongest signal)
Photos of family and friends
Cannot Haves:
Your own furniture
Pets (only exception are fish)
Halogen lamps
Extension cords
Large speaker systems
Monitors or TV screens larger than 24 inches
Cooking appliances which have a visible coil and as indicated by the Student Handbook.
Residence Hall 101
What to know, what to pack, who to contact.
Residence Hall Contacts
Women's Residence Hall
Main Number
707-965-6313
Janice Wood
Associate Dean of Students, Dean of Women
Winning Hall
(707) 965-6315
jwood@puc.edu
Lunelle Bertresse
Assistant Dean of Women
Graf Hall
(707) 965-6522
lbertresse@puc.edu
Denise Grant
Assistant Dean of Women
Winning Hall
(707) 965-6285
dgrant@puc.edu
Kristi Horn
Assistant Dean of Women
McReynolds Hall
(707) 965-7478
khorn@puc.edu
Gena Philpott
Associate Dean of Women
Andre Hall
(707) 965-7461
gphilpott@puc.edu
Men's Residence Hall
Main Number
707-965-6491
Jim Boyd
Dean of Men
Nichol Hall
(707) 965-7203
jpboyd@puc.edu
Jeremy Barnes
Assistant Dean of Men
Newton Hall
(707) 965-7418
jfbarnes@puc.edu
Hernan Granados
Associate Dean of Men
Newton Hall
(707) 965-7409
hgranados@puc.edu
Jonny Halversen
Associate Dean of Men
Grainger Hall
(707) 965-6387
jhalversen@puc.edu
Orientation Schedule
Wednesday, September 16

9 a.m - 1 p.m.
ACT (residual)
1-4 p.m.
Move in
4 p.m.
Family orientation
6 p.m.
Parent session - career services orientation
7 p.m.
FUSION/New student orientation begins

9 p.m.

Open gym/pool/Campus Center

Thursday, September 17

9 a.m.
English Placement Test*
10 a.m.
FUSION/General academic advising session
11:15 a.m.
Departmental orientation and group advising
12:30 p.m.
Lunch
2-5 p.m.
Academic advising—individual
4 p.m.
Honors information for potential applicants
4:30 p.m.
Adventist Colleges Abroad (ACA) Information Session
5 p.m.
Supper
5:30 p.m.
Honors and learning disabilities orientations
6 p.m.
Allied Health orientation for double majors
6:30 p.m.
Preprofessional orientation
8 p.m.
FUSION/New student orientation II
9 p.m.
Open gym/pool/Campus Center

Friday, September 18

9 a.m.
Academic advising - individual
10 a.m.
General academic advising session
11 a.m.
Academic advising - individual
12 noon
Lunch
1 p.m.
Check-in & load buses
1:30 p.m.
Depart for camp
4:30 p.m.
FUSION I
5-6 p.m.
Free time
6 p.m.
Supper
8 p.m.
FUSION II
9:30 p.m.
Group time
10:30 p.m.
Interactions
11:30 p.m.
All quiet

Saturday, September 19

9 a.m.
Breakfast
10 a.m.
FUSION III
11:30 a.m.
Group time
1 p.m.
Lunch
2:30 p.m.
FUSION IV
3:30-4:30 p.m.
Free time
5 p.m.
FUSION V
6 p.m.
Supper
7:30 p.m.
Special event TBA
10:15 p.m.
Pack up and clean cabins
11 p.m.
Load buses and return to PUC

Sunday, September 20

9:30 a.m. - Noon
Transfer student move in
10 a.m.
Brunch and free time
11:30 a.m.
Veterans orientation, international student orientation
1 p.m.
Transfer student orientation
2:00 p.m.
Shopping trip (optional)
6 p.m.
Supper and special event
6 p.m.
Open gym/pool/Campus Center

Monday, September 21

Instruction begins
5 p.m.
SA Welcome Celebration
Schedule
Complete orientation and Fusion schedule for Wednesday through Monday.
Orientation & Fusion Retreat
September 18-19, 2015
Get ready for the ultimate icebreaker to kick off your college career! Before the fall quarter officially starts, all freshmen will load up on buses and head for a retreat center where we'll have time to focus on God, friendships, and what's ahead in 2015-2016.
Orientation will include worship sessions with incredible speakers, music, games, and plenty of time to make new friends.
Buses leave Friday, September 18, 1:30 p.m.
Packing List for Fusion Retreat:
Bible
Warm sleeping bag & pillow
Sweatshirt or warm jacket
Camping attire for two days
Towel
Swimsuit
Flashlight
Closed toe walking shoes
Sunscreen
Mosquito repellent
If you have any questions, email us at fusion@puc.edu or call 707-965-7362.
Please note: Because first-time freshmen who are age 19 or younger are expected to attend the retreat, a $120 orientation fee will be automatically applied to your account.
Fusion Retreat
What you need for the weekend retreat.
Parent Information
You are welcome to help your student move in to the residence hallon Wednesday, September 17. Parents are also invited to special parent orientation sessions at 4pm and 6pm (please note that times and events may change). If you are bringing your student to campus and need a place to stay, see Area Lodging for information. Additional information may be found at the Parent FAQ.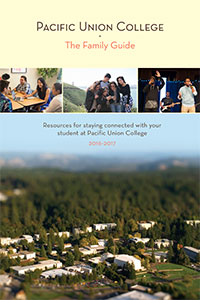 The Family Guide 2014-2015
The Family Guide is full of helpful resources for the families of PUC students. Learn about supporting your student academically with helpful questions to ask and resources to connect with. Dive deeper into the spiritual environment your student is entering, and explore the various social and recreational opportunities they'll encounter. The Family Guide also includes useful information about upcoming events, student finance, the college's health plan, and other campus services. Check out the Connecting pages for more information about staying in touch with your student and keeping up-to-date with what's happening on campus.
Student Handbook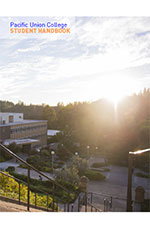 The Student Handbook helps you become familiar with the resources and opportunities available to students, as well as the policies that govern student privileges and responsibilities as members of the PUC community.
PUC Student Handbook
The handbook that all students should read and abide by.
PUC Student Handbook Supplements
Important additions to the Student Handbook.
Need More Help?
We are here to be your guide to PUC. Give us a call at 1-800-862-7080 or email us and we will provide you with all the information that you need!