New Students
Start Guide
With so much to do before classes even start, the Start Guide can be a life-saver. The instructions are simple: Make sure you do all of this stuff. And if you need any help, don't be afraid to ask!
Things To Do
Before-you-get-here and after-you-get-here checklists.
Residence Hall 101
What to know, what to pack, who to contact.
Fusion Retreat
What you need for the weekend retreat.
Schedule
Complete orientation and Fusion schedule for Wednesday through Monday.
New Student Orientation
New Student Orientation begins on the Wednesday evening before classes start for fall quarter, which begins on a Monday. Orientation programs are also offered at the beginning of winter and spring quarters for students who arrive mid-year. Orientation includes presentations from key campus leaders, academic advising, extended office hours so you can get everything squared away, a special orientation program for parents, and Q&A time. The fall quarter orientation also includes the Fusion Retreat and opportunities to mix and mingle.
Parent Information
If you are bringing your student to campus and need a place to stay, see Area Lodging for information.
The Family Guide
Resources for staying connected with your student at Pacific Union College.
Fusion
Fusion is designed to assist first-year students age 19 or younger in the transition to college life. Students meet in small groups weekly throughout the year to identify and clarify values and beliefs which form an essential foundation for success in relationships, academics, and spiritual life.
Fusion also features a fall weekend retreat required for all first-time freshmen age 19 or younger. The retreat is filled with worship, friendship, and fun in the beautiful redwoods of Northern California. Be sure to only bring casual clothing for two days, a warm jacket, comfortable closed-toe shoes for hiking, a flashlight, a sleeping bag for cool nights, pillow, toiletries, a towel, bathing suit, sunscreen, mosquito repellant, a Bible, notebook, a pen, and an adventurous spirit! The retreat takes place at a camp with a skate park, Ropes Course (with 400-foot zip line), climbing wall, BMX track, volleyball court, ping pong, swimming pool, outdoor basketball court, soccer and baseball field. Buses will leave campus on Friday and return to campus on Sunday.
Student Handbook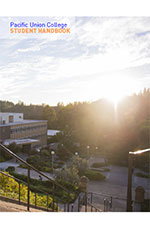 The Student Handbook helps you become familiar with the resources and opportunities available to students, as well as the policies that govern student privileges and responsibilities as members of the PUC community.
PUC Student Handbook
The handbook that all students should read and abide by.
Need More Help?
We are here to be your guide to PUC. Give us a call at 1-800-862-7080 or email us and we will provide you with all the information that you need!