The Maxwell Scholar Program awards $15,000 renewable scholarships to five winners and $12,000 renewable scholarships to five runners-up. Winners are selected based on academic success, leadership experience, and Christian service.
About the Maxwell Scholar Program
2013-2014 Maxwell Scholars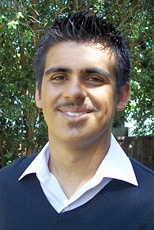 Armando Camacho-Santos
Pleasant Hill Adventist Academy
Concord, Calif.
Armando Camacho-Santos achieved success both in athletics and in service during his time as a student at Pleasant Hill Adventist Academy. Before graduating with high honors from PHAA, Camacho-Santos managed to squeeze in time during his years in academy to volunteer to homeless communities in the Bay Area, both play and coach varsity soccer, attend a mission trip to Belize, and serve as a group leader for younger students during a spiritual retreat to Leoni Meadows.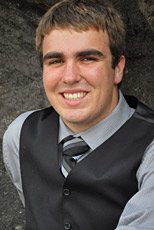 John "JJ" Reynolds, Jr.
Hawaiian Mission Academy
Kailua, HI
JJ Reynolds is a newly-minted graduate of Hawaii Mission Academy in Honolulu. Reynolds spent much of high school consciously preparing for collegiate success and post-secondary leadership scenarios. In addition to high academic honors and mission trips to the Philippines and Kenya, Reynolds served as the student association president at Hawaii Mission Academy his junior and senior years, leading the way in several significant campus renovations, as well as being the varsity basketball and volleyball captain for three and four years respectively.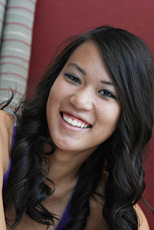 Caitlin Terukina
Loma Linda Academy
Moreno Valley, Calif.
Caitlin Terukina is an academically successful finalist who demonstrated spiritual leadership during her time in high school. In her years at Loma Linda Academy, Terukina ministered to her classmates as senior class president, to children as a Vacation Bible School leader at Mission Road Seventh-day Adventist Church, and to the congregation of the same church as a performing member of a contemporary praise band. Terukina is a high achiever in sports also, as she picked up several prestigious awards in high school, including Most Valuable Player in both varsity girls flag football and basketball, along with Loma Linda Academy's 2012 Athlete of the Year award.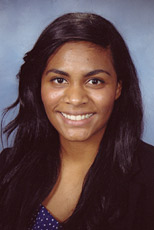 Taleah Tyrell
San Diego Academy
San Diego, Calif.
Taleah Tyrell earned recognition as a Maxwell Scholar for her contributions to American democracy. In addition to her outstanding academic success and tireless church involvement as a student at San Diego Academy, Tyrell worked in Washington D.C. as a page for the United States Senate where she was required to memorize the faces and names of all one hundred senators and serve as the first point of contact when organizing and processing bills and amendments. Her experience in government also included volunteering for the Registrar of Voters in San Diego County, by counting ballots, monitoring voting activities, and assisting disabled voters during the 2012 Presidential Election.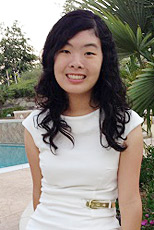 Charlene Wang
Loma Linda Academy
Redlands, Calif.
Charlene Wang was awarded the Maxwell Scholarship after demonstrating to the selection committee her excellence in multiple areas of academy life including community service, music and drama, ministry, and academics. Wang began earning academic credits for college as early as her sophomore year and continued to do so while being enrolled in four dual credit classes with La Sierra University. During her time in high school, Wang performed as first soprano for Loma Linda Academy's Pro Musica singing group, volunteered 173 hours of her free time at a hospital tending to patients' needs, and taught Bible studies as student ministry director at LLA.
Semi-finalists
Semi-finalists for the Maxwell Scholarship receive $12,000 in annually renewable funds. This year's semi-finalists are Jeremy Brown of Lodi Academy, Brett Dickinson of Newbury Park Adventist Academy, Ryan Goldring and Daniel Grigore of Mountain View Academy, and Natalie Wolske of Monte Vista High School.