Kristina Reiber - John Christian History Scholarship
, August 23, 2008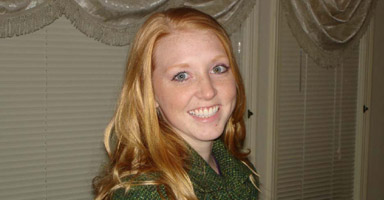 Among this year's John Christian History Scholarship recipients is junior Kristina Reiber. Initially an English major, Kristina wasn't able to overlook her long-standing interest in history for long, and her sophomore year she decided to major in it also because, she says, "I think it goes well with English." Moreover, she says, "I love the PUC history department; it definitely influenced my decision."

Kristina's academic interests go as far back as high school. English and history were her top subjects so it made sense for her to pursue those interests in college. "I love literature," she says, "[and history] helps give [it] context and background, and I love the way the two complement each other." As someone with multiple interests, it was not easy for her to decide on a career path. Luckily, her professors — Lynne Thew, Cynthia Westerbeck and Paul McGraw, to name a few — were there to offer advice and encouragement. Kristina now has a clear vision of what she wants to accomplish in the future. "I'm hoping to get my master's degree in publishing and I'd like to be some sort of an editor."

She is not just about schoolwork and textbooks, however; she is involved in various organizations on the PUC campus. As someone who loves to play almost every sport, Kristina is the assistant for (and recurrent participator in) the PUC intramural program, where she has "met a lot of really good people and made a lot of good friends." Kristina also loves to write, and although she is private about her work, she is gaining confidence thanks in part to academic dean Nancy Lecourt, who "has been very supportive of my writing." She is now a regular contributor to the Campus Chronicle and is pleased that PUC has been able to accommodate her various interests and hobbies.

Although she initially chose PUC because it seemed to be the next logical step after graduating from Mountain View Academy, Kristina has grown to feel very comfortable and to fit right in here. "I love PUC! I've become really involved and I love the community, I love the teachers. I think PUC is a good environment." Needless to say, she has made memories and built relationships here that will be with her forever.

Although she is a successful, well-rounded student of both history and English, Kristina remains very humble about her academic prowess. "Being nominated for the scholarship," she says, "was a big surprise." But it isn't just the financial aspect that Kristina appreciates, although as a college student she is thankful for any help she can get; what impresses her most is that there are people out there who are interested in helping college students acquire an education. "My education means a lot to me," she says, "and it's good to know that you're being supported by not just your family and your teachers but by people you don't even know." It is this dedication to her studies and thoughtfulness about her future that makes Kristina truly deserving of recognition.