Jessica Philpot - Nashed Family Scholarship
, August 20, 2008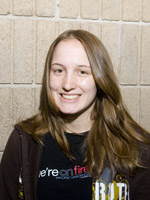 "I haven't seen a fight here, and that's totally bizarre," says Jessica Philpot, a junior liberal studies elementary education major, giving a glimpse into her years in public high school. "You can't be yourself, there is more segregation, things [are taken] further, it's hard to find someone to connect with, and there are only a few Christians in school," says Jessica. However, there is also something Jessica liked about her experience in public high school. "It helped me understand more about society and what's going on. We all need to know from experience – you learn more."

After graduating from high school, Jessica decided to attend Pacific Union College, a college most of her family attended. She chose PUC because it was an Adventist college close to home, and it would be a change from what she had already experienced in the public school system.

"I have been impressed with all the spiritual aspects, the high level of academics, and how genuine and nice people are here," says Jessica of her PUC experience so far. Jessica knew only a few acquaintances from her summers at Redwood camp meeting when she walked on campus as a freshman. "Coming here has really taught me the meaning of friendship and acceptance," she says, also admitting that she has had to learn a bit about sharing space with a roommate.

As with many students, Jessica looked in the direction of one major and ended up on the path to another. "I was going to do nursing—that's what my parents wanted me to do—but after I volunteered at the hospital, I knew medicine was not for me. Then I looked at my gifts and what I liked." She is now on her way to finishing her bachelors in liberal studies, education.

This year Jessica was the recipient of the Nashed Family Scholarship. "I am really glad. It is less I have to take out in loans, which is really helpful," Jessica says of the scholarship. "You can give in all sorts of ways, and I am appreciative for the help I got. I hope in my career it pays off – and I can give back."

The Nashed Family Scholarship, one of PUC's endowed scholarships, was established in 1995 by Yacoub and Ellen Nashed. "I believe in Christian education. I benefited much from the help I received, and if I can help I will," says Yacoub Nashed. They established the endowment to help students obtain their education, although Yacoub notes that they are the ones that receive a blessing from the contribution.

Jessica would eventually like to continue her education and receive a master's in education, and notes she would prefer to do so here, through PUC master's in education program.