Jacquelin Romero - Richard A. Jackson Memorial scholarship
, August 20, 2008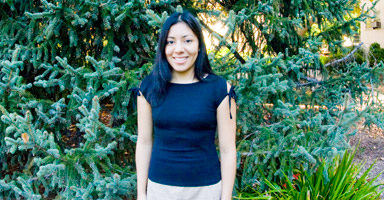 We all hate to stand in lines, especially lines that requires us to hand over money, and Jacquelin "Jackie" Romero is no different. However, this year she didn't have to stand in the line at the financial aid building during registration to go through the process of explaining that there was no more money to give PUC. In fact she was able to get in and out of the financial aid building in mere moments. She attributes this feat to assistance from the Richard A. Jackson Memorial Scholarship, a yearly scholarship that recognizes a chemistry major for commitment to good citizenship, which she received this year Jackie tells the story of many students when she says, "If not for these scholarships, I wouldn't be here. I would have had to quit and go to a junior college in order to work more and help out with family expenses."

Last year, Jackie came very close to this option when her mother, a single mom working two jobs, got very sick. The financial stress built more than usual with her mom sick and in need of medical specialists and, potentially, dialysis. With Jackie about to start her senior at PUC and her younger brother about to become a PUC freshman, things seemed impossible. "It's a lot of stress on a student," says Jackie. "Being chosen for a scholarship that is there because of these donors; well, it's a big answer to prayer to have a scholarship come through. It came at a time when I really needed it."

As a senior Biochemistry and Spanish major, she knows the meaning of hard work and not just school work. Since high school Jackie has worked to help her mother with family expenses and tuition costs. "I'm paying my way through school. I've worked to off-set costs for things that are hard to get loans for like books and ink for the printer," explains Jackie. In fact, one quarter at PUC she had a total of seven jobs. This year her work load is lighter with only two jobs. She is a resident assistant in Graf hall (her home since her freshman year) and the assistant head teaching assistant for general chemistry lab, a job which she has held for two years.

Now Jackie has another stress as she waits to find out if she is accepted to medical school at Loma Linda University. Jackie has wanted to be a doctor, more specifically a pediatrician, since the age of 13 when she went on a mission trip to Honduras. The experience of being a 13-year-old translator assisting dental and medical missionary teams solidified medicine as her calling. Everything Jackie has done, coming to PUC for the pre-med program, volunteering in the hospital, taking on leadership roles, everything has lead up to this waiting for the acceptance letter from medical school.

One day, down the road in life, Jackie says she would like to give back to PUC, "I want to come back and give to an institution that has given me so much. I want to help future generations get an education." But for now she is focused on the mail, a particular letter, and the next four years of her life.