Cherine Kim - John F. and Anna Wuerth Scholarship
, August 20, 2008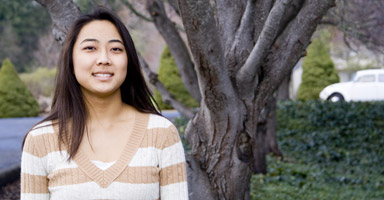 Cherine Kim is an indecisive senior, which, according to her, is not such a good thing. "I'm one of the most indecisive of my friends. I'm still trying to figure out my long-term goal," she says. "It's really funny to see the freshmen that have everything figured out. It sometimes makes me wonder what's wrong with me."

Cherine is a double major in history and chemistry with an emphasis in bio-chemistry. She is the 2006 recipient of the John F. and Anna Wuerth Scholarship. The Wuerth Scholarship was established in October 1980 by Lillian Wuerth Giddings in memory of her parents, John A. and Anna Wuerth. The scholarship rotates through a number of academic departments and is given to a full-time junior or senior with at least two quarters remaining and a 3.25 GPA. Cherine was awarded the scholarship through the history department. "I'm really appreciative that they would spend the time and money to contribute to scholarships. It is really nice to see that people care what we do here. Thank you," she says expressing her appreciation to the scholarship donors.

Though Cherine's combination of majors is unusual, she says they are more similar than people think. "In some respects I think they are similar. They both have an analytical side—which is what drew me into history. It takes the same approach as science and is a similar thought process." In her opinion, history is the harder of the two majors.

Cherie discovered her enjoyment of history while fulfilling her general education credits. But it was her brother who encouraged her to double major. "He is the one encouraging me to try new things, to do things I was not originally planning on doing," she says.

Cherine is still deciding where she is headed after graduation. She may follow her original plan and go to Loma Linda University for medical school. Or she may take a year off to try and figure out a way to incorporate both majors into her future profession.