Marge Jetton: Still Active at 102
, August 19, 2008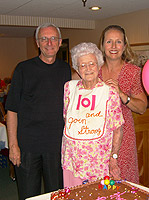 Marge Hodge Jetton (SHSHSN '25), PUC's most celebrated centenarian, keeps a schedule most people her children's age would find exhausting. Up every morning between 4:00 and 5:00, she lifts weights, walks a mile and volunteers weekly.

Last week after lunch and birthday cake at Linda Valley Villa with PUC President Dick Osborn and alumni director Kellie Lind, one would have expected Marge to go to her apartment and take a nap. Nothing doing: She immediately invited Lind to her apartment, where they had a lively visit for almost two hours.

Marge is a people person. She shows genuine interest in others and their families. She says, "Everybody is my friend."

Born Ora Marge Hodge in 1904 in Yuba City, California, Marge recalls with detail the 1906 San Francisco earthquake. "I was outside with my father on our farm," she recounts. "He was feeding the horses. All of a sudden, the water in the horse trough started sloshing back and forth. I looked up at my father and said, 'Daddy, pretty soon there won't be any water left for the horses.'"

Marge graduated from high school at 16, and that same year her father died at only 39 years of age of pneumonia. Marge needed to help to support the family and started working in a local cannery.

At an early age, Marge realized the importance of education, especially after her father died and she watched her mother struggle to support her family as a hotel housekeeper.

Marge dreamed of becoming a teacher, but the nursing course cost less so that's what she decided on. Thinking first of attending school in San Francisco, 17-year-old Marge was encouraged by a family friend to enroll in the nursing program at St. Helena Sanitarium, near Pacific Union College.

It was at the Sanitarium that Marge met James Jetton, who worked as a bellhop. Marge remembers that in those days "you couldn't do anything without a chaperone!" The Jettons were married in 1926 and moved to Walla Walla and then back to PUC, where James took pre-medical courses. James graduated from Loma Linda in 1934.

In 1936 Marge and James had their son, Jim. When Jim was 3 years old, they adopted their daughter, Jane, who was the same age as Jim.

As a young woman, Marge showed the independence and strength that she is celebrated for now. In 1941 James was called to active military duty and was stationed at Fort Benning in Georgia and then served for 14 months in Czechoslovakia. During this time Marge kept the family going, even driving across the country with her young family to be near James.

After a long career in Bellflower, California, the Jettons served short mission terms in Zambia and Ethiopia and retired in the 1980s in Loma Linda, California, where they both volunteered for the Loma Linda University Medical Center. James Jetton passed away at 96, two days shy of their 77th wedding anniversary.

What does Marge credited her longevity to? "God gets first credit," she says.
Marge says her Christian faith, along with her spiritual commitment, social bonds, regular exercise and avoidance of junk food, has added to her longevity.

Marge's attitude is summed-up in her mottos: "If you can't change it you'd better like it," "Try to be happy in spite of your trials," and "Take it to the Lord in prayer.