Jeremy Price: A Gospel Choir and a Hammond Organ
, August 19, 2008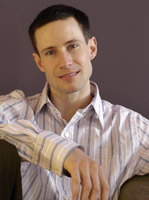 Right after his graduation in June of 2001, Angwin native Jeremy Price headed for the Big Apple. He took with him degrees in math and music, teaching credentials, and the musical skills he had honed as director of PUC's Black Student Forum Gospel Choir and its successor, Caught Up.

Jeremy quickly found a niche in the city. "I love New York," he says. "It's not an easy place to live. You have to want to live there. But I like all the culture in New York. You meet a lot of different people—a lot of driven and smart people." He finds the forums stimulating, the museums enthralling, and the theatre too expensive—at least for now.

For two years Jeremy was staff pianist and organist at the 10,000-member Brooklyn Tabernacle, home of the choir that has won two Dove awards and six Grammy Awards for Best Gospel Choir. Having reached the top in the gospel choir arena, Jeremy decided to put his math education credentials to use in the classroom. He taught in Chelsey's Fashion Industries High School, the feeder school for the famous Fashion Institute of Technology. Then he went on to embrace his true love: organ craftsmanship.

One of the perks of being in the Bay Area for college was that Jeremy also received practical training as an organ technician in Oakland. He put this training to use keeping the Hammond organ used by PUC's gospel choir in shape. Now he has his own Hammond organ technician business in New York and is establishing a reputation for quality work.

There's still reason for Jeremy to come back to PUC. He and his father, aviation instructor Bill Price, make organ parts in their home shop; and Jeremy is still glad to see his former professors. He recalls that some of his math professors even returned to the campus in the evenings to help him and his friends when their study group was stuck. And he's grateful for the renewable academic scholarships, academic honors, summer ministries, and Wuerth scholarships that helped him obtain two degrees.

In the end though, it's music that is Jeremy's calling. It was through his active involvement in such programs as "Connections," a student-led church service, that Jeremy got his first big break—the Gospel Choir. "PUC was very supportive of the choir," he says appreciatively.

From those beginnings with the Gospel Choir, Jeremy has moved on to a successful career on another coast. But his enthusiasm for music is the constant that promises to stick with him: "I'm kind of passionate about the work I do," Jeremy grins.