Dr. Douglas Marlow
, August 19, 2008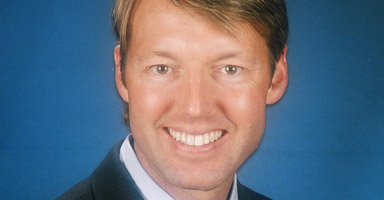 In 1989, Douglas Marlow's life changed. His best friend since high school, Kevin Wilson, was killed in a car accident. It happened in the winter between Douglas' junior and senior years at PUC where he was a psychology major. Through the tragedy, Douglas and Ken and Joanne Wilson, Kevin's parents, became adopted family. "They became my godparents – God's gift in my life." Douglas said he learned two things from the tragedy of Kevin's death. He discovered his favorite text, Romans 8:28, and a new way to look at life. "It taught me in a profound way that every moment is a gift – every moment with people, in what I'm doing in life – is a gift." Years later after Douglas received his Ph.D. in psychology and MA in theology and had served six years in the U.S. Navy; this adopted family brought him to Hermiston, Ore., where he became the town's first practicing psychologist.

Douglas came to Pacific Union College because he was looking for a good liberal arts college that had a great psychology program, preferably with an emphasis on the clinical approach. PUC was that college and it had the added benefit of being in California. He graduated in 1990 from PUC with a B.S. in psychology and went directly into the Psychology doctoral program at Fuller Theological Seminary, which he chose because of the school's emphasis on integrating theology and psychology. "I only applied to one graduate school--against Dr. Bruce Bainum's advice! Fortunately, I was accepted," remembers Douglas. Psychology was the only thing he had wanted to do since high school, when his parents divorced. "I was always asking 'why,' and I still am," he says. "Psychology and theology are all about asking questions and exploring answers."

In 1995 he joined the US Navy to complete his psychology internship. He spent one year training in Bethesda, Maryland and then went overseas to Okinawa, Japan, the largest Naval hospital outside the United States. After two and a half years in Okinawa, he was invited to teach leadership and psychology and worked as a Sport Psychologist for the Naval Academy intercollegiate sailing and hockey teams at the United States Naval Academy in Annapolis, Maryland.

After serving his time in the Navy, he was promised a job in Washington, D.C. During a six-month waiting period between jobs, the Wilson's invited him to stay with them in Hermiston, Oregon. "I worked with Ken Wilson, in the plumbing business he owns. Ken was very gracious; my Ph.D. hadn't provided me the plumbing skills I needed." When the job in Washington fell through, he decided to stay in Hermiston.

In 2002, Dr. Douglas Marlow opened Psychological Solutions, the first psychology practice in Hermiston, Oregon. Just months after opening his practice, Douglas was so busy that he brought in a psychology resident to help with the case load.

Today, Douglas is the owner of two companies. Psychological Solutions continues to thrive as a general practice and consulting company. His second company, Advanced Advising, offers executive consulting and life coaching services.

Apart from his practice, Douglas, who married Sheri Gannon in 2004, also serves the community as legislative chair of the Oregon Psychological Association, where he is an advocate for psychological issues at the local, state and national level. Currently, the organization is advocating the "Privilege to Prescribe" which would allow specially trained psychologists to prescribe medications in the treatment of mental and nervous disorders.