Visual Arts
Museum Days
Several times a year the Pacific Union College Visual Arts Department sponsors a trip to visit one of the major museums in San Francisco Bay Area. These trips have included the SF Museum of Modern Art (pictured above), The Palace of Legion of Honor, and the de Young Museum. Faculty and students spend their day soaking in the culture as they are able to connect much of what they see and experience to their work and studies in the department. It's been one of the highlights of the quarter for the department. These past and future trips are just one of the perks of living in the greater SF bay area and the Napa Valley. Access to these museums are a treasure. This Fall Quarter, the Visual Arts Department will be going to the de Young Museum on November 14, 2010 to view "Van Gogh, Gauguin, Cézanne, and Beyond: Post-Impressionist Masterpieces from the Musée d'Orsay" This is a rare opportunity to view works from the Musée d'Orsay in Paris while they are undergoing renovations. The caravan will be leaving Fisher Hall at 11:00 a.m. and returning by 6:00 p.m. for more information about the exhibit go to: http://deyoung.famsf.org/deyoung/exhibitions/van-gogh-gauguin-cezanne
Photography Student Shows at HCA
Not only is Grant Ordleheide's photography featured in this year's PUC Academic Calendar, his work is showing at the Healdsburg Center for the Arts Photography Showcase. Grant's photography work is showing in the sixth showcase along with several other juried and selected artists.
Photography Showcase
September 10-October 3, 2010
Healdsburg Center for the Arts
Open Daily 11am - 5pm | Artwalk First Fridays until 8pm
130 Plaza St., Healdsburg, CA 95448 | Phone: 707-431-1970
http://www.healdsburgcenterforthearts.com/photography-showcase-6
Class of 2010
Kerry Chambers: Graphic Design
Craig Church:Film & Television Production
Lauren Dunn:Photography
Amanda Flynn: Graphic Design & Fine Art
Michelle Jelletich: Fine Art
Charles Johnson: Photography
Jessica Kubrock: Photography
Chris Martin: Graphic Design
Nicole Pidoux: Graphic Design
Ashley Quackenbush: Graphic Design
Stephanie Rosenburg: Graphic Design
Jason Robinson:Film & Television Production
Beth Stottlemyer: Graphic Design
Enoch Tengler: Graphic Design
Cassie Young: Photography
Bye. We'll miss you!
Who's New In Town? Class of 2014 (or 15)
Let's Welcome to the Department & Mentor our Freshmen and Transfer Students
Katie Aguilar, Graphic Design
Courtney Balonek, Graphic Design
Kylee Brock, Film & Television Production
Jesemynn Cacka, Photography
Rebecca Gil, Fine Art
Joshua Harper, Film & Television Production
Carla Hernandez, Photography
Annie Kim, Graphic Design
Grace Kim, Fine Art
Meena Kim, Fine Art
Tina Lin, Fine Art
Lily Murphy, Graphic Design
Casey Pohren, Photography
Rocio Quiroga, Pre-Art Therapy
Dylan Ruiz, Graphic Design
Kristen Savino, Photography
Jordyn Vixie, Photography
Student Produces "Taking Haiti Home"
Lainey S. Cronk
"Taking Haiti Home," young filmmaker Tim Wolfer's first major production, tells a story from on the ground in a post-earthquake Haitian orphanage called La Maison des Enfants de Dieu.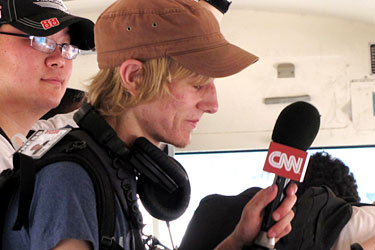 Wolfer was in the middle of the school year as a film and television student at Pacific Union College when the earthquake hit Haiti. Wolfer posted a note on Facebook asking who would sponsor him to go to Haiti… and packed his bags. Now, people often ask him why that was his response. "I honestly don't know," he says. Wolfer had the background for such an adventure, though: He's filmed internationally for humanitarian projects, starting about two years ago when Maranatha Volunteers International, a non-profit that coordinates construction of urgently needed buildings, invited him to do film work in Mozambique. He's also done film work for the Seventh-day Adventist World Church as well as small non-profits, taking him to four countries in Africa, a couple in South America, and Bangladesh. more >>>
Call to Artists
Elementary, Junior and Senior High School and College Students!
Wanted: 100 pieces of artwork from Napa Valley students All media welcome
Celebrate Creativity! In recognition of Napa Valley Arts 2010
Nimbus Arts and Cameo Cinemas proudly present
Napa Valley Student Art Walk
A display and sale of work from local art students in Downtown St Helena
November 10, 2010 from 6:00-8:30pm
Please call 707-963-5278 to arrange submission of one piece of your favorite work
Deadline to receive work: October 27th 5:00pm
All art work must be picked up at 8:30pm on November 10th in St Helena All sales will be processed at that time.
Contact the visual arts office for entry forms.
Rasmussen Art Gallery Exhibits "Superplexus"
This Saturday evening, October 2, 7-9 pm, you can mix art and play at the opening reception of "Superplexus: Sculptural Labyrinths" by Michael McGinnis. In addition to the huge, amazing maze-filled globe that you can play with, McGinnis is showing numerous sketches and models showing the development process. Several of his award-winning smaller versions are also available for hands-on play. He will be talking about his work at 7:15; don't miss it!
Photography Students Travel in 2010:
Professor of photography, Tom Turner, has led out in a bi-annual photography trip to the Yucatan Peninsula since 2001. The trip has provided photo students, faculty, staff, and alumni a chance to expand their portfolios and experiences. This past March, students visited sites including the Mayan ruins of Chichen Itza, Tulum(pictured above) and ruins close to the colonial city of Merida.
Students in Jerry Dodrill's Color Photography II class took a weekend trip to the California/Oregon border on the coast. The trip yielded many wonderful photographic experiences.