Nursing
Learning At Its Best
Joan Hughson
"Things just aren't the way they used to be." This is a lament often heard when someone is wishing for a return to something in the past. When related to patient care, nurses would reply, "Thank goodness!"
In the mid 1850s nursing education was just becoming a formalized area of study. Hospitals established schools of nursing because they could take advantage of nursing students as cheap labor to provide nursing care for the patients. This meant that students were practicing their skills on real patients. Today nursing programs provide learning laboratories on campuses where students have the opportunity to develop a variety of patient care skills and be tested for competency prior to actually doing procedures on real patients.
The Pacific Union College nursing program provides two learning laboratories for students. In the Skills Lab, an eight-bed "hospital ward," students practice many skills on manikins including dressing changes, injections, and urinary catheter insertions. In the Simulation Lab, students use a manikin with built-in technologies allowing literal assessment of vital signs, heart, lung, and bowel sounds, palpable pulses, and observation of chest movement with respiration. The manikin even converses with students. This level of assessment allows for higher-level decision making and development of critical thinking skills.
During the current academic year 135 students will be using the labs as a part of their campus learning experience. The more realistic these learning environments are, the better prepared students are for clinical realities and able to provide safe and effective care. There are many items needed that would enrich these learning environments but which cannot be afforded at this time within budget constraints. These include IV (intravenous) training arms, oximeters, tympanic thermometer, educational DVDs , computer equipment, medium-fidelity manikins, a pediatric high-fidelity manikin, camera and audio equipment and furnishings resembling the hospital setting.
Funding these needs is an investment in the education of every nurse who graduates from the PUC nursing program. And it could be an investment in a nurse who takes care of you someday.
As a graduate of PUC's nursing program you know how important these items can be to a student nurse. And if you haven't yet made an investment back to your alma mater so that others can benefit from the Skills Lab, please don't wait any longer. Take the opportunity to go to https://www.puc.edu/alumni/give-online and make a gift! You can designate your gift to the Nursing Department and it is a charitable contribution.
New Campus, New Format for the BSN Program
Nancy Tucker
Starting in June of 2009, the BSN Program added a new campus in Napa in conjunction with Queen of the Valley Medical Center. Many of the students are QVMC RN's who want to complete their BSN as they continue to work full time at the hospital. The new campus has the same curriculum as in Angwin, but has a new format. The classes are taught one at a time year round and meet one night a week for 4 hours over 6-8 weeks. The core nursing classes and the required religion classes can be completed in 18 months. The QVMC is providing a classroom with multimedia and we provide the curriculum and teachers.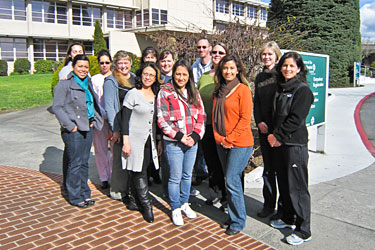 The current group of students will be finished in mid-October, 2010 and we hope to start a new session of the program in late January, 2011. The students are enthusiastic about the program and the scheduling of classes as it fits well with their work schedules.
On the Angwin campus we continue our long standing schedule of core week classes as that fits the schedules of many other students so well. We have a classroom that is bursting at the seams and are glad to see so many of the PUC ADN grads moving forward in their professional lives by completing their BSN.
Life as a New Grad
Derek Bobst '09
After experiencing the joy of graduation and passing the NCLEX, a question loomed over me; where, oh where will I find a job as a new graduate nurse? It's a question that all new graduates face with varying degrees of concern and anxiety. As a local to the PUC area I knew at the start of my job search that the surrounding community is over-saturated with new graduates and the chances of finding a job were minimal at best. And to no surprise, after submitting applications to several hospitals, I either received no return calls regarding my application/resume or no jobs were available at all. This prompted me to look elsewhere for employment.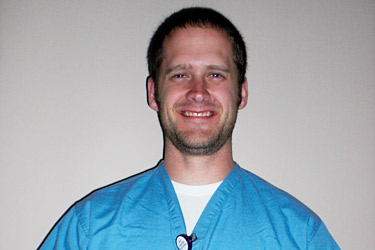 In my search I was encouraged to look at Renown Medical Center in Reno, NV. Renown is a Level II trauma center and is the only trauma center in the region, so naturally I was excited about the possibility of employment there. After further examination and talking to current employees I decided to apply to a new graduate opening in the trauma ICU. I soon received a phone call and went through a 45-minute phone interview that was nerve racking at best. A few days following the phone interview, a face-to-face interview was scheduled. In the days prior to the interview I was understandably nervous, apprehensive, and a fear of the unknown settled in. When I showed up to the interview appropriately attired and early, a sort of calm came over me. All I could do is rely on the education and skills bestowed upon me by PUC.
The interview process consisted of a short tour of the unit and then a peer run interview that consisted of five currently employed RN's on the unit. Intimidating to say the least. Before I could catch a breath the interview was over and done with in a blur. Post interview feelings were surprisingly at a fairly even keel. And to my amazement, 2 hours later a job was offered to me. I of course accepted the offer of a job as a new graduate nurse into the 3-month training program. This program would be intense with full time bedside hours accompanied by a preceptor, many classes to take and tests to pass, along with online learning modules.
For the next three months I lived, breathed, and ate nursing, experiencing the many highs and lows associated with an ICU. From the joy of bringing a MVA victim back after an hour and fifteen minutes of ACLS, to the sadness of comforting a family that just lost a young mother of three. At first all the information I was faced with was overwhelming and with so much to learn I felt despair creeping in. But then as I compared myself to other new graduates starting at roughly the same time, I realized how well prepared I was to face this challenge. PUC had provided me with a solid base of knowledge along with the critical thinking skills required to go along with it. In a trauma ICU where the learning curve is steep and the patients could go south in just seconds, this education gave me the boost of confidence that, yes, I can do this.
Now with the last four months of my first nursing job behind and my future career ahead of me, I have PUC to thank for the incredible opportunities that are presented to me now. My advice to new graduates of PUC and those still in the program is to take pride in the education you received and the confidence that you are more than adequately prepared to face life as a new graduate nurse. Rely on your family, friends, significant other, whoever it may be that is your support network and most importantly, on God.
Africa
Victoria (Tori) Miller '10
This past summer I had the incredible opportunity to travel to Ife, Nigeria for eight weeks, along with two of my nursing classmates from Pacific Union College, and help in the Adventist hospital there. Through this amazing and educating experience, I learned so much, not only about nursing and medical practice in other countries, but about culture, humility, compassion, and having an open mind and heart.
During my time there I rotated through each ward and spent my time working alongside the nurses and nursing students. Nursing in Nigeria is much different than nursing in the United States. Even though their resources are far less than those available in America, I was humbled to feel that there was still a lot that I could learn from the hard-working staff on the wards.
There were times when I felt frustrated and even devastated. Seeing so much death is heartbreaking. Even in those moments, I learned lessons about strength, true empathy, and an acceptance for other ways of doing things, whether I may view them as right or wrong.
It's an unusual feeling to travel somewhere expecting to bring with you a wealth of knowledge and an expectation that you will be a blessing to others, and instead, find yourself the one being blessed beyond your wildest dreams and learning more than you feel like you contributed. I would highly recommend this type of experience to anyone, nursing student or not.
Kendu Adventist Hospital School of Nursing
Shana Ruggenberg '84
Kendu Adventist Hospital School of Nursing is located in the small lakeside village of Kendu Bay, in the Lake Victoria region of Western Kenya. The Kendu Adventist Hospital has 164 patient beds, with an occupancy of approximately 80 percent. In the summer of 2008, at a meeting of the deans and directors of SDA nursing programs, a request for assistance was presented by Patricia Jones of Loma Linda University on behalf of Mr. John Okello, the principle tutor of Kendu School of Nursing. The school has many needs, chief among them the need for tuition to allow a faculty member to attend the Loma Linda University MSN program slated to start in Thailand in a couple of years. The school also indicated a need for funds to enrich the teaching-learning resources of the school, a need that if met would benefit the students directly and immediately.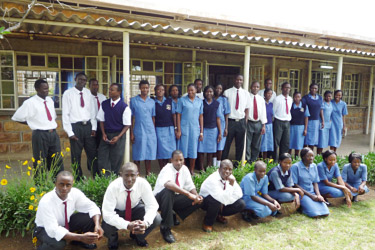 Patricia Jones, who is the director of the Office of International Nursing at Loma Linda University School of Nursing and Associate Director of the Department of Health Ministries for the SDA General Conference, has travelled widely and met with SDSA schools in all parts of the world, and encouraged the US SDA schools to provide assistance where possible. The directors from three schools, Pacific Union College, Walla Walla University, and Kettering College of Medical Arts, promised to take the request to their faculty and students.
At Pacific Union College, the faculty and student leadership agreed that this was a project they would support and pledged to raise $1000 per year for the next four years. This pledge would support the overall goal of raising $12,000 – the cost of tuition for one faculty member from Kendu to attend the LLU MSN program in Thailand.
Last year, faculty and students contributed $980 dollars in support of this program, and we are kicking off our campaign for this year with a focus on Nurses' Week, May 6-10. We believe that Nurses Week is a good time to recall the selfless sacrifice of many nurses before us and by contributing to a school in need, we honor the tradition of giving to others.
If you wish to join us in this project, please send your donation to the Department of Nursing – checks should be made out to SDA General Conference, with a note in the memo section that the funds are for Kendu.
Juliette
Emily Hawley '10 and Katie Beasley '10
When we left for Africa, little did we know that we were going to fall in love. After stepping onto to the pediatric ward for the first time, there was one little girl named Juliette who stood out. On her second birthday, as Juliette played in the market, her leg was accidently run over. Both of her leg bones were broken. Juliette was immediately taken to surgery where they inserted pins through her leg bones leaving parts of her leg and muscles showing. Although this little girl had been through so much, there was always a smile on her face and a little voice calling "Auntie Nurse!" We developed a close relationship with this little girl and went and visited her and her mother each and every day on the ward. For us, the 6 weeks in Africa seemed like a very long time, but looking back we can only imagine what the same six weeks were like for this little girl, lying in the hospital bed, being put through pain and misery multiple times throughout the long day. Our trip to Nigeria was nothing we expected, but it was everything that we needed. We were so blessed by all of the wonderful people and all of the miracles that we were able to see.