Faculty Transitions

This summer the English Department bid a very fond farewell to two of Stauffer Hall's most creative muses: John McDowell and Mei Ann Teo.


New AS Degree in Film & Theater Studies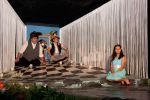 The English Department is very pleased to announce the creation of a joint A.S. Degree in Film and Theater Studies.


Heather Reid Completes Ph.D.

In August, Professor Heather Reid returned to the University of Victoria where she successfully defended her dissertation.


"Write it Down": PUC alumna Tanita Davis Becomes Award-Winning Author

PUC English grad Tanita Davis ('93) is now a name to find in major bookstores across the country.


As Told To . . . Morgan Chinnock

Another PUC English alumnae, Morgan Vogel Chinnock, had her first book published by Pacific Press.


English Alum Publishes Crossword Puzzle in the New York Times

Caleb Rasmussen ('08) has achieved the holy grail for lovers of crossword puzzles.


Craig Hickerson Premiers Film at Toronto International Film Festival

Craig Hickerson ('10) is the associate producer on the film The Island President which premiered at the Toronto International Film Festival on Sep. 10, 2011.


AlumNotes

Here are some additional updates on what some of our graduates are doing.


Editor's Note
It has been a year since the announcement of our new electronic newsletter, and even longer since the publication of the last print edition of "The Ellipses."